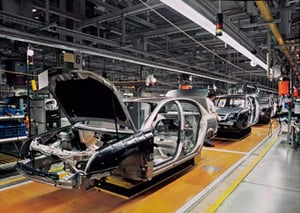 Whether you have little work experience, are looking for your first job, are fresh out of college, or are skilled, experienced, and looking to change industries, if you want to parlay your love of cars into an exciting career, then the automotive industry is definitely a sector of the workforce that you should consider.
A career in the automotive industry might be the perfect fit for your passion, personal interests, and skills and experience.
Here are three things you should expect in a career in the automotive industry.

1. A Wide Variety of Positions Available
The automotive industry is one of the biggest, multi-faceted and wide-ranging industries you can get into. The job opportunities are limitless. Whether you're interested in sales, marketing and publicity, legal, engineering, welding, manufacturing, tech, or any other number of career paths, you'll be able to find an opportunity that you're interested in, passionate about, and will love.
Some job opportunities, like auto parts manufacturing, are entry level. You can break into the industry by getting into an auto manufacturing job, getting your foot in the door, learning new skills, gaining experience, and building your career from the bottom up. Others, like auto engineers, require high-level education. Whether you're looking for a career in the automotive industry as your first job or you have significant education, skills, and experience in a relevant field and are looking to switch to this industry, you'll be able to find opportunities that you are qualified for.
Positions are also available at both small companies and large conglomerates, depending on your interests. On any given day, you can find thousands of different job openings for a career in the automotive industry.
2. Technological Innovations
If you love tech, then you'll love a career in the automotive industry. With the rapid development of technologies and innovations such as autonomous driving, electrified powertrains, advanced safety systems, and next-generation hybrid and electric cars, you'll never stop being fascinated be the new technologies that are being implemented in vehicles today.
New innovations in vehicular technologies also means that that auto makers are always in need of talented tech employees. There's a big demand for engineers that know power electronics and software and computer science.
3. Stability
After years of layoffs and hiring slowdowns due to the recent recession, the automotive industry is now rebuilding its workforce to meet an increase in sales. Though it might have been tougher—and riskier—to get a career in the automotive industry 10 years ago, the field is now thriving again. There is improved job security and stability that comes from a career in the automotive industry today.
The car and auto parts manufacturing sector in particular is in high demand for new employees. It's the second leading form of manufacturing after beverages, and manufactures are now ramping up business to keep up with the recent growth in sales.
As companies continue to expand and start to add more capacity and a higher time commitment to keep up with demand, it means more take-home pay for the workers as well. In fact, manufacturing leads the rest of the auto industry in terms of hours worked and wages. In addition, the majority of auto manufacturing jobs are unionized, which can be a major advantage when it comes to security, stability, wages, and benefits.
Interested in a job in the automotive industry? Contact Liberty Staffing today to find a job opportunity that suits your needs, interests, and skills.