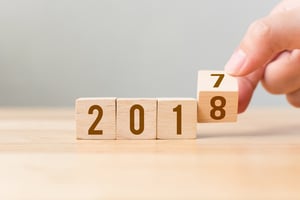 Is one of your New Year's resolutions to obtain a new career in 2018? There are many reasons to change careers. Perhaps you need a new challenge, or maybe you want to work in a less stressful atmosphere. Whatever the reason may be, there are certain ways to go about looking for a new job.
January is the perfect time to gain a new career. 2018 could be your best year yet professionally. Liberty Staffing would like you to be successful in gaining a new career. Here are some tips and strategies to land your dream job this year.

Network
Network, network, network. Ask family members, friends, and coworkers if they know of anyone that's hiring in your field. It never hurts to ask.
You can also create some great connections on social media platforms like LinkedIn, and Twitter. Invite employers to follow you. Ask your followers if they know of anyone that's hiring.
Attend Job Fairs
A great way to send your resume out to a lot of employers quickly is to attend a job fair. Many hiring managers will set up booths for their companies and attend job fairs in order to recruit for their available positions. Search online for job fairs in your area. Make sure to print off multiple copies of your resume, and dress professionally, before you head out to a job fair. A great way to stand out from the crowd of other job seekers is to bring customized business cards with you.
Tailor Your Resume
Once you've figured out your dream job, it's time to tailor your resume. Make sure to update your resume to fit the position that you are looking to obtain. Add any keywords and/or skills that are pertinent to your field. Think of what hiring mangers in your field would want to see, and what they would consider the "perfect resume". However, make sure that the statements presented on your tailored resume are true to your professional background.
Work on Your Brand
A great way to sell yourself, your accomplishments, and create a brand for yourself, is to maintain professional social media accounts. It's imperative that you create and maintain a professional LinkedIn and Twitter account, in particular. Social media can be a great way to get your name and resume out to multiple employers, around the world.
Technology and social media platforms continue to grow and evolve with each passing day, and in 2018, it's important that you show employers that you are up on the latest trends, and that you're tech-savvy. So make sure to have appropriate profiles on social media and brand yourself.
Partner with a Staffing Agency
One of the easiest, and most efficient, things to fast-track your new career is to partner with a staffing agency. Liberty Staffing Services provides temporary, temporary to permanent, and permanent work in Ontario, in the general labour, warehouse, industrial, and office sectors.
Our recruitment professionals will sit down with you, go over your skills and previous work experience, discuss your ideal job, what shifts you're looking for, and go from there. Liberty Staffing takes the time to
The great thing about staffing agencies is that they will send out your resume to multiple hidden job markets. All that you have to do is come in and register, and your application will be sent to hundreds of job opportunities by our recruiters. Then, all that you have to do is wait for us to contact you once your dream job becomes available.
Apply with Liberty Staffing today! Contact us for more details.