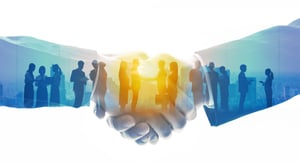 First established in 1999, Liberty Staffing Services is an independent staffing agency with multiple branch locations across Ontario. We help job seekers find work, and provide flexible staffing solutions to local businesses.
At Liberty Staffing, our goal is to match job seekers with a great job opportunity. If you're a hiring manager, looking to recruit for your company, Liberty Staffing can help.
Here's some information about our Brampton and Mississauga branch locations. Read on.
We're Merging Offices
To better serve job seekers/our employees, and our clients, Liberty Staffing Services has decided to merge our Mississauga and Brampton offices into one branch. This merge will occur by the end of April 2020. Our new Brampton/Mississauga office will be located near Highway 10 and Steeles Avenue in Brampton. Specific address details for our new office will be available soon.
Please be advised that Liberty Staffing's Mississauga, Ontario office is now closed. Our Brampton office remains open at this time.
Liberty Staffing's Brampton office is located at:
700 Balmoral Drive, Unit 6B
Brampton, Ontario
L6T 1X1
Information for Job Seekers
If you are looking for work, please call our Brampton office at (905) 799-8586. Liberty Staffing offers general labour, warehouse, and office work in temporary, temporary to permanent, and permanent job opportunities. We would love to discuss our job opportunities with you!
Hiring for Your Company?
Are you a client of Liberty Staffing in Mississauga? Our Brampton team will be your new point of contact.
If you're a business owner, or hiring manager, looking for qualified staff members in the Brampton/Mississauga area to join your team, reach out to us. In addition to temporary and permanent staffing, Liberty Staffing also provides comprehensive management of payroll, job-specific testing, and easy billing with detailed weekly invoices.
Contact Liberty Staffing's Brampton office today at (905) 799-8586.