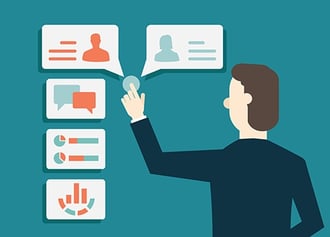 Did you know that Liberty Staffing offers a referral reward program? If you are currently registered with Liberty Staffing and know someone who is looking for work, we encourage you to apply to our referral reward program. The referred individual will be required to register with us and complete a minimum of 200 hours of work. A successful referral will result in a reward of $100. If you are interested in this promotional offer, please read the following important information.
What is Liberty Staffing's referral program?
Liberty Staffing offers a $100 reward to employees who refer a friend to our business.
How does the referral reward program work?
You must be currently registered/an employee of Liberty Staffing. The referred individual must also register with our agency. Once you have referred someone and they have completed the registration process, we will place them at a job. The referred individual will be required to work a minimum of 200 hours at their assigned place of employment. You will receive a $100 bonus reward in your pay with the successful completion of 200 worked hours by your referred friend.
Am I candidate for this promotion?
Those who are currently registered/an assignment employee of Liberty Staffing are eligible to apply for this promotion.
Why is Liberty Staffing offering me this promotion?
Much of our business comes from referrals. If you have enjoyed your experience with us, we encourage you to refer a friend to our business. Liberty connects great people with great jobs. We are offering you this great promotion to thank you for your loyalty in doing business with us.
Who can I refer?
You can refer a friend or family member to Liberty Staffing. Friends or family members who are reliable, trustworthy, and eager to work are recommended.
Can I refer more than one person?
Of course! The more people you bring in, the more business we receive. You are welcome to refer more than one person to Liberty Staffing. Please note that each referred individual must complete the required 200 hours of work in order for you to receive the $100 reward.
Which Liberty Staffing office offers this promotion?
All of our offices offer the referral reward program.
How do I get paid?
A bonus of $100 will be added to your paycheque.
Why should I apply to the referral reward program?
You could collect a generous referral bonus of $100, your friend receives a job, and Liberty Staffing hires another great employee. It's a win-win-win situation!
How do I refer a friend?
Fill out a referral form and drop it off at one of our local branches. Or, come in to one of our locations and fill out the form in-person.
We love seeing new faces in our offices. Come in today to refer a friend.