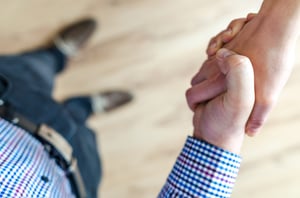 You may have come across a friend, family member, or acquaintance who has mentioned that they are looking for work. Obtaining employment can be difficult, especially if their dream job is within a specialized field, or if they are entering the workforce for the first time.
We've all been in the unemployment boat at some point or another. Think of how tedious and frustrating the job hunt was back when you were looking for work. Applying to job opportunity after job opportunity, with no call backs from employers. Looking for work is a full time job in itself.
How can you help these individuals? And what's in it for you? A staffing agency like Liberty Staffing Services can help. Here's why you should refer a friend to Liberty Staffing.
Are You Registered With Us?
Before you refer anyone to our agency, ask yourself this: are you a registered employee of Liberty Staffing? Have you worked with us in the past, or are you currently working at a job assignment with us? If you answered yes to any of these questions, you should refer a friend to apply with us. There are many great benefits for both you and your referred friend, which we will discuss further on.
What Kind of Work are They Looking for?
Next, ask your friend or family member what type of work they are looking for. Liberty Staffing Services offers general labour, warehouse, industrial, and office work in temporary, temporary to permanent, and permanent opportunities.
If your friend is looking for work in any of these fields, chances are that we'll be able to help them find employment. Please keep in mind that Liberty Staffing does not guarantee work for all candidates, but we'll try our best to find your friend work quickly, based on what they are looking for.
You Could Work With Your Friend
Are you and your friend keen on working together at the same company? Liberty Staffing may be able to help. We cannot guarantee that an opening will be available for your friend on the same shift as you, but we will try our best.
Working with a friend can be great motivation. You can carpool, and you may be able to take breaks together. However, always remember to follow your supervisor's instructions, keep things professional, and stay safe while on the job.
$100 Referral Bonus Program
Last, but certainly not least, Liberty Staffing offers a great referral reward program. Our referral reward is $100.
If you are a registered employee with us, and you refer a friend or family member to apply with our staffing agency, you could be eligible to receive $100. The referred individual must complete 200 hours with us in order for you to qualify for the referral reward.
You could gain $100 for referring a friend, and your friend could receive a great job! It's a win-win situation.
Ready to refer a friend to Liberty Staffing? Contact us today!