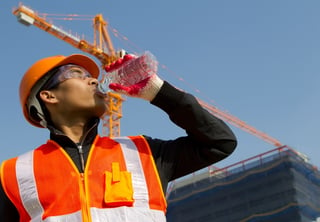 Summer is here and that means a lot of employers are looking to hire additional staff to help handle the extra workload. Whether you're running an office, warehouse, or an industrial business, you know you'll probably need to bring in new workers for additional help that's specifically skilled.
Staffing agencies, like Liberty Staffing, can easily solve your evolving staffing issues. But has your business considered how to ensure the continuous welfare of its seasonal and full time employees? Safety should be everyone's number one priority (employers and employees alike).
There are specific policies and procedures you should have in place to ensure worker safety isn't an issue. The summer work season brings unique workplace safety challenges to the forefront that every employer should be wary of. So, here are three pro tips for maintaining worker safety in your workplace.
1. Prevent Heat Stress
No matter if your employees will work in an office, warehouse, or an industrial environment, make sure you take all the necessary steps to prevent heat stress in the workplace. With summer temperatures reaching record heights in recent years, the potential risk is high for workers to experience a host of heat-related. Ontario experienced its warmest February on record this year, likely pointing to a warmer summer this year, so review your policies for working in hot weather.
If you are in an office setting, make sure that air conditioning (A/C) solutions are in place. Warehouses and industrial settings should have designated cooling areas, with water and fans (possibly A/C), to keep core temperatures from soaring. Frequent breaks and light work attire are also important.
2. Thoroughly Enforce Safety Policies and Procedures
Make sure that your policies and safety procedures are crystal clear for all your employees. Sometimes policies are too shrouded in legalese and other corporate jargon for employees to get the full picture of your safety practices. Keep all relevant safety literature in simple and concise terms.
Having your safety rules clearly stated in writing isn't enough, though. You should train your temporary and permanent staff early to make certain they follow the rules from the get-go. Discuss safety policies daily (this is especially useful for warehouse and industrial operations that require a lot of physically involved work and machinery).
Also create a safety committee, whose responsibility is to make sure all employees are following safety procedures throughout the day.
3. Know Your Duties as an Employer
Just as your employees must know and follow safety procedures thoroughly, it's equally important that employers know their responsibilities towards employees in order to maintain worker safety.
According to Ontario's Occupational Health and Safety Act, an employer must "take every precaution reasonable in the circumstances for the protection of a worker". Make sure your company is aware of its duties as an employer according to the Safety Act, and be open to receiving constructive feedback from your employees regarding worker safety policies.
One of the best ways to strengthen your policies and procedures is to hear about which ones aren't sufficient for your employees' safety. Maintaining a high level of workplace safety is a group effort. You must remain vigilant about observing and correcting unsafe behaviours and practices.
Make your workplace one that employees would recommend to others.