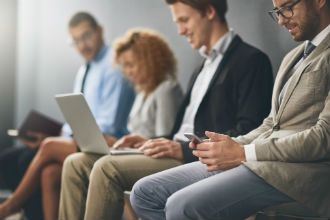 The Canadian job market has become increasingly competitive in recent years, making it necessary for candidates like you to become as meticulous as possible. Landing a job is no longer just about having the right skills and experience; it's also about timing.
That's why you should conduct a search as early as this spring. Spring is actually one of the best times of the year to look for jobs for a number of different reasons. There's often a large turnover from the previous year; employers hold meetings about hiring strategies at this time; and budgets have been drawn to actively look for candidates for summer placements.
Want to know the best ways to capture the attention of potential employers this spring? Read below to learn how to kickstart your job search.
Tweak Your Resume to Match Current Standards
Whether you are a student or professional looking for work, you need to research what your resume should look like in 2018. A well-designed resume will easily attract the attention of multiple employers, especially when including relevant keywords can help you get shortlisted.
But it's not all about keywords. A few key elements of a well-designed resume include:
An easy-to-scan, minimalist template with a clear business font to match
A concise summary statement of what you do best and quantifiable achievements to demonstrate your skills and experience
A reverse chronological order list of positions that are most relevant to the positions being applied to
A balance between bullet points and paragraph statements concerning your skills and experience
Don't Rule out Social Media Prospects
Networking among your immediate family, friends, and acquaintances is certainly a good way to improve your job search's effectiveness, but don't underestimate social media as a job-search tool. Nowadays, most forward-thinking companies have a Twitter account, Business Facebook page, or LinkedIn account.
You could land your next job through social media if you're mindful of your branding and use the platforms you frequent as a way to demonstrate your knowledge of the industries you're most interested in. Social media is all about communication, so if you've done your research and found contacts via LinkedIn, for example, reaching out could land you an interview.
Not to mention, being able to professionally brand yourself online showcases that you're not only good at communication, but tech-savvy as well.
Apply to a Staffing Firm
Getting recruited by a staffing firm that offers diverse job opportunities could be the "a-ha" moment of your spring job search. This is especially true if you're a student looking for temporary work or a candidate testing the waters of a specific industry, like warehousing or office admin, for example.
There's a mistaken belief that staffing firms are only focusing on temp positions right now because the gig economy has become the new normal. Staffing firms like Liberty Staffing don't just offer temp jobs; they offer temp-to-permanent, and permanent positions as well.
The goal of recruiters at these firms isn't just to meet hiring demands but to ensure you and the client you are placed with make a good professional match. Applying to a staffing firm gives you flexibility and could even land you a career you love.
Keep these tips in mind as you hit the ground running for your job search this spring.