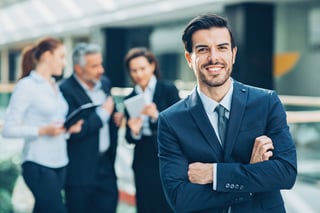 It's a new year, so it's time for a new you. Maybe you're graduating this year or perhaps you've been on the job hunt for a little while now. Maybe you're bored with what you're doing and wondering if a new career can take you where you want to go professionally.
Whether you're a new entrant to the market or looking to switch paths, a staffing firm can help you launch your new career. How can a recruiter help you? Just count the ways.

Finding the Right Jobs
One of the challenges in this job market is finding the right jobs. While it's easy to apply, and there are many job postings online, finding the right job is more difficult. Different employers use different terms and titles for the same jobs and skills. You can spend a long time searching LinkedIn and not find jobs you're qualified for.
Staffing firms can help you sort through the weeds and find the real gems in the classified listings. These are the jobs you'll be a top candidate for. You'll have a better chance of not only getting the interview, but also the job.
Sprucing Up Your Resume
One challenge job seekers often run into is their resume just isn't meeting employers' expectations and standards. A staffing agency can help you get your resume in great shape.
A recruiter can give you recommendations about the terminology to use when applying in specific fields. They can also give you tips on which skills employers are looking for. They even have advice on how to format your resume and make it truly stand out from the crowd.
Helpful agents can also help you proofread your resume to get rid of any last, lingering typos.
Connecting You with Employers
Another challenge of searching for a new job is actually getting the attention of the hiring manager or interviewer. You sent in your application and you have a great resume. What often happens, though, is you'll get screened out by software. Worse, your application may be missed or simply not opened.
The chance of you being missed when an agent passes your application along to an employer is much lower. The staffing firm has already conducted pre-screening activities, based on your profile with them, to determine whether or not you're a good fit for the job. Employers know this, so they take recommendations from the staffing firm much more seriously.
You can think of a staffing firm as a more direct line to the employer. Instead of getting lost in someone's inbox, they'll be waiting to see your application arrive from the recruiter.
Helping You Gain Experience
One of the biggest challenges in today's market is the experience trap. Employers have become accustomed to asking for not only high levels of academic achievement but experience as well. It's not uncommon to see a job description for an entry-level position asking for two years of prior experience.
If you're thinking about launching a new career, the need to have experience creates a barrier between you and the job you want. If you don't have the experience, you're unlikely to get an interview, never mind the job.
Working with a staffing firm can help you gain the experience you need. Staffing firms can direct you to temporary and contract positions in your field of choice. These positions will help you gain the practical experience you'll need alongside the skills you'll need to land your dream job.
Even if you've worked before, you may need a helping hand getting relevant experience in your industry. Working with a staffing agency to take on temporary assignments could be just the solution.
If you're thinking about embarking on a new career, team up with a staffing firm like Liberty Staffing on this exciting journey!