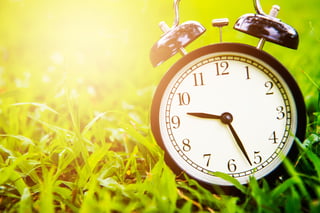 Liberty Staffing is an independent staffing agency with 11 locations across Ontario. This weekend, we will be springing the clocks forward in anticipation of the warmer months ahead. This means on Sunday, March 11, Daylight Saving Time will begin at 3 a.m.
Are you an employee of Liberty Staffing currently working on assignment? The time change will effect you. Also, any employers/clients of ours will be effected as well.
You want to make sure that you are ready for the time change, to make sure that everything runs smoothly. Here's how you can go about preparing for the time change this weekend.
Employees
Have you taken on a job with Liberty Staffing? If so, that's great! We want to make sure that you are successful and happy in your placement. The first thing that you can do to start off your day right is to be on time for work. This can become tricky during the time change. Make sure you set your clock an hour ahead before you go to bed on Sunday night. Or, most clocks have a Daylight Saving Time switch.
It's also a good idea to set your alarm well in advance of you scheduled shift to ensure that you'll be on time. Chances are with this time change that most commuters will be running late, and you don't want to get caught in rush hour traffic, if you can avoid it. Don't be late for work on Monday.
Since we'll be springing the clock forward, employees will lose an hour of sleep. To combat this, it's a good idea to go to bed earlier. Getting enough sleep in the day is crucial to productivity and happiness in the workplace. Studies show that employees who are overworked and tired are less productive, and are generally unhappy.
Employers
As a hiring manager, supervisor, or manager, it's your responsibility to make sure that your employees are aware and prepared for the upcoming time change. Not matter if you have temporary staff on duty or permanent hires, all are important and essential to the success of your company, and all need to be on time.
In order to prepare your employees for the time change, make a note on the company calendar, or send a note home with employers with the time change reminder. Verbally remind employees before they leave on Friday night about the time change, so they'll be ready for Monday.
And finally, be a bit lenient. Sometimes people just forget about the time change. It happens.
Are you ready for the time change this weekend? Do you need more tips? Contact Liberty Staffing Services today.