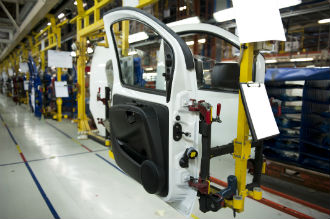 If you have an interest in cars or other types of vehicles and think a career in the automotive industry is one you would enjoy, look into positions offered, and see if there might be one suitable for you.
The automotive industry continues to widen in a variety of available positions. In fact, the automotive industry is the general term of which under it lies an array of jobs. These include, but are not limited to: repair technicians, service advisors, car dealers, car racers, and corporate positions.
There is a rapid progression of technology in cars and, as a result, the hiring rate is also increasing. If you don't hold a degree in the field, this should not be a reason to fret. There is a plethora of entry-level positions you can pursue in an effort to integrate yourself into the industry before proceeding to apply for advanced roles.
Let's discuss a few reasons why a career in the automotive industry would be a move in the right direction.
You Can Find a Suitable Position
As mentioned earlier, the automotive industry does not just offer one type of role for job seekers, but a range of positions. Additionally, the industry offers a variety of opportunities for different types of careers as well. You don't need to solely be skilled in mechanical engineering or technology to succeed in the automotive industry. If marketing is your background, or design, you can definitely find a position that could merge your educational background with your knowledge and passion for vehicles.
Make a list of your skills as well as expectations for a job you know you'd thrive in. Based on that, conduct research on jobs in the automotive industry to find ones that match your list.
For example, if you are personable, perhaps a position in the sales direction would be appropriate for you. If you are creative, a role in design may be ideal. Alternatively, if you work well with your hands, auto service and repair may be the route you need to take. As you can see, pondering a career in the automotive industry will not leave you limited in choice. It's just a matter of finding the right fit.
If you're unsure of the different types of positions available in the automotive industry, enlist the help of a staffing agency to guide you through the various jobs available.
You Can Earn a Lucrative Salary
The automotive industry employs individuals with a diverse range of backgrounds. There are several job opportunities available, as well as opportunities for advancement in this field.
Positions in manufacturing, design, and body repair, just to name a few, are known to be well-paying jobs in the industry. Entry-level positions in the industry also pay well.
An Ever-Exciting Career Choice
Creativity and efficiency are necessities for workers in the automotive industry, as consumers demand newer and better models. For as long as the automotive world continues to advance, there will always be something new and exciting in store for you.
This pertains to any position in the field. You will always have cause to stay motivated while pursuing a career in the automotive industry.