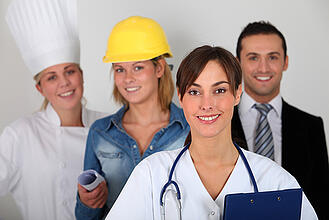 The economy is starting to bounce back and many employers need to build up their staff again. However, hiring new workers can be a very time consuming and expensive process, and those tasks require many resources. Working with a staffing service can be an ideal solution to fill the gap when you need to hire new employees quickly without burdening your current human resources staff with the task. Here are three reasons why you should consider the benefits of employing temporary workers.
Screening Applicants
Finding the right employee involves a lot of research. Screening resumes, conducting interviews, and contacting personal and previous employment references can all be extremely time intensive tasks that the average human resources employee just doesn't have time to complete. When you pay a staffing service to do these tasks for you, you are saving so much time that it is easy to see why it is worthwhile.
In addition to saving time, letting a staffing agency source and screen new applicants can also give you the peace of mind that comes with hiring specialists. A small business might not even have a dedicated full time human resources team, which means that they would be more inexperienced in how to select a good candidate. A bad hiring decision can be a costly mistake and you don't want to take unnecessary risks. A staffing agency evaluates candidates and selects the most qualified ones for placement with your company.
Payroll Management
Ensuring that your employees are paid in a timely manner is another time consuming and sometimes complicated administrative task for your business. Errors in payroll can easily create a big hassle that wastes your staff's valuable time. This is another significant benefit of employing temporary workers, because the staffing service takes care of all of this work for you. A staffing service is also experienced and skilled in managing more complex payroll issues, such as dealing with wage garnishments.
A Good Trial Period
Temporary employment offers a flexibility not seen in more traditional full time employment scenarios. If you already know that you definitely need more manpower now, but are concerned about future employment needs, employing temporary workers can be a good solution in the interim until your long-term needs are more certain.
Employing temporary workers also gives both you and the employee an opportunity to test working together. It can be difficult to get an accurate sense of how well a candidate will perform on the job based on interviews alone. Similarly, it is difficult to determine in advance how well a particular individual will fit within your company's culture. A trial period of temporary work, prior to offering a full time permanent job, can further eliminate the risks inherent in hiring.
It is a very positive sign that the economy is rebounding, but many employers are understandably still nervous about hiring. The option of employing temporary workers can provide a more efficient workforce and position your company for further growth.