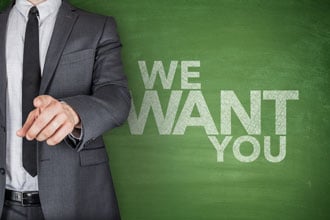 If you are involved in recruiting at your organization, chances are you have considered hiring a staffing firm to help you with the difficulties of your job. Staffing agencies, especially niche ones, can be a great asset for a company to find the best talent on short notice, saving your organization time and money.
But since the decision to outsource your recruiting instead of conducting it in house is a fairly important one, it's important to consider the industry. As with any other strategic decision, doing a little research is beneficial.
We put a list together of some interesting–and significant–facts you didn't know about the Canadian staffing industry to help you with your decision. This will assist you in knowing if the industry is worth investing in and in understanding what the future of Canadian staffing agencies will likely look like.
1. It's on the Rise
One of the most important statistics is that the Canadian staffing industry is growing. For 2016, revenue is expected to edge up 1%, causing the industry to reach an $8.2 billion market size.It's also expected to grow another 4% in 2017. This is significant because it demonstrates that outsourcing recruitment and hiring functions is more important to businesses than ever before.
The reason behind this is increased competition: with so many companies now in existence, businesses are seeking out ways to gain an edge over others in the same industry. This includes lowering their hiring costs, finding top talent, reducing turnover, and ultimately, beat out competitors.
2. Types of Roles to Be Found
It comes as a surprise to many people that the industry is quite diverse. As recently as 2014, it was estimated that 50% of the temporary Canadian staffing industry was comprised of professional (white collar) workers, while the other 50% was comprised of blue collar, or industrial/commercial, type roles. This is interesting because many people–organizations and individuals alike–write staffing agencies off, mistakenly thinking firms don't hire for the types of roles they're looking for.
In actuality, the industry is adaptive, flexible, and diverse. To illustrate, consider the following: the industry's revenue could be broken down by skill segment with approximately 25% of revenue for IT staffing, 14% for engineering, 5% for finance and accounting, 2% for healthcare, and 4% for other professionals.
3. Niche Staffing Firms Are Huge
One notable trend in the Canadian staffing industry is the rise of the niche staffing agency. Niche staffing agencies specialize in recruiting for specific industries or roles. Because they are focused on a particular niche, they have expert market knowledge, meaning they are better equipped to hire for particular roles because they are familiar with what those roles entail. They may also have access to hidden markets or have connections to extremely talented passive candidates who may otherwise be impossible to find.
Many organizations are thus opting to use niche agencies for their recruiting needs, which is having a significant impact on the industry at large. More and more firms are looking to specialize, making it easier for companies to find the right firm for them, and thereby easier to find top talent that meets all your requirements.
If these facts about the Canadian staffing industry were new to you, there's a good chance you'll want to further explore the decision to outsource your recruiting functions. While it is a big decision, it could definitely end up saving you and your organization significant time and money.
Contact Liberty Staffing today to find out more and determine for yourself if this is the option for you.