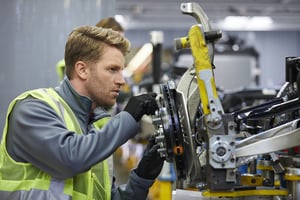 One of the strengths of the Canadian economy, particularly in Southern Ontario, has been the auto manufacturing industry. While Detroit, Michigan, may be "Motor City," cross the border into Ontario and you'll find a number of car manufacturers have set up shop.
What does a car manufacturer do?
Today's auto manufacturing industry involves a number of stages, from the initial design sketches to fabrication of parts, to assembly, right down to the paint job every new vehicle receives.
Most car manufacturers saw a slow down in production during the Great Recession. Recovery has been slow, and there are some concerns about the future of car manufacturing in Canada and the rest of North America. Nonetheless, auto manufacturing, like other sectors of the Canadian manufacturing industry, has been seeing a boom in demand. In turn, manufacturers have been scrambling to hire talented workers for their operations.
What benefits are there to working in auto manufacturing? As many people can tell you, there are quite a few.
1. Working in Auto Manufacturing is a Skilled Job
Working in automotive manufacturing requires a good deal of skill and talent, which is why auto manufacturers like Ford require college degrees for their employees. While some jobs may involve repetitive tasks, many of the jobs at a car manufacturing plant require people with critical thinking and problem solving skills. The job will certainly be challenging.
2. It Usually Pays Well
Most car manufacturers pay their workers well. While full time positions are usually considered the most plum thanks to robust benefits packages, all workers are usually given a decent wage.
Manufacturing as a whole tends to pay better than retail industries, the restaurant industry, or customer service jobs. This is because they need skilled people who can think critically and solve problems. There's also a good deal of safety training and other considerations. Car manufacturers need smart, talented people.
To recruit them, they're willing to pay competitive wages.
3. There Are Many Employment Opportunities
Most manufacturing has switched to just-in-time production, which means there are busy times and lull times. Car manufacturers are the ones who pioneered this method of lean production in North America, so they use it in their own operations.
Many workers will be hired during the busy times, then laid off or let go during the lull times. If you perform well, however, there are almost always opportunities to work in the industry. Talented and skilled workers are more likely to be hired back when the next high production period rolls around. If there's an opportunity for full time work or another position that opens up, you may be considered for it.
Essentially, car manufacturers almost always need people, and they look for ways to keep their top performers coming back.
4. You'll Learn Valuable Skills
As mentioned above, there's more to working in auto manufacturing than "pushing a button." This is one reason car manufacturers need talented and skilled people, but it also means you as the employee have plenty of opportunities to learn and practice valuable skills.
You may learn anything and everything from better time management to analytical and critical thinking skills. You'll probably learn about health and safety protocols, among other workplace skills. After working as an auto manufacturing employer you'll have developed the skills that will serve you well in almost any other industry.
There are many benefits to working in the auto manufacturing industry, and these are but a few. If you think this might be the right job for you, talk to a recruiter at Liberty Staffing today!