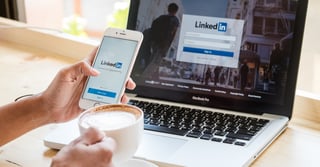 There are so many good reasons to keep your LinkedIn profile up to date and professional. Whether you're looking for a job, thinking about a career change, or simply planning for an unknown future, it's always a good idea to make sure that your LinkedIn account looks professional and current to anyone who views it.
Here's why it's important to keep your LinkedIn profile current, and some easy fixes to make your LinkedIn look more professional.
Why is it Important to Keep Your Profile Current?
If you're happy in your current position, do you really need to pay attention to your LinkedIn profile? In our experience, yes! It's worth it to keep things current because things can change quickly. 2020 and 2021 has certainly taught us a lot of lessons about being ready for the unexpected.
Even if you are thrilled with your job, it's still a good idea to have a LinkedIn profile. First, it helps with networking because people can find you easily and reach out to connect. Second, it ensures that you are building a network list over time, rather than having to create one when you need it most. Third, and finally, keeping your profile active allows you to be nimble in your employment. If you end up needing a new job, you're ready to make the switch!
We've put together a list of five ways to make sure that your profile looks great to visitors, including colleagues, recruiters, and employers.
1. Choose the Right Profile Picture.
Your profile picture says a lot about you! It's important that you use a high resolution, up-close picture that really looks like you. Pictures with other people, or in which you are far away from the camera, can look unprofessional and distracting.
Dress professionally for your picture. Better yet, wear what you would normally wear to work. This will give employers an idea of who you are, and how you present yourself.
2. Avoid Buzzwords and Irritating Jargon
You might not even realize that you're using buzzwords unless someone points it out to you, but buzzwords can make your profile look like everyone else's. Some of the most overused buzzwords include: strategic, specialized, expert, and track record.
If you find yourself using a lot of these words, consider whether there may be some better ways to communicate your traits and qualities. That way, you can show who you are without sounding like everybody else on the platform.
3. List Your Skills, Not Just Job Titles
Your job titles are important, and people are definitely looking at them. However, job titles aren't the whole picture. Think of it this way; two people could share the same job title but actually have very different responsibilities and experiences.
That's why it's important to list more than just your job titles. List the skills that you have developed throughout your employment history, including soft skills.
4. Share Relevant Content
Like any other social network, LinkedIn profiles that are active and engaging are better than those that are static and dull.
Sharing content that is relevant to your profession is a smart move because it keeps you active on the site and helps viewers see that you are knowledgeable and keep up to date. Whether you are creating your own content or not, you can use LinkedIn's sharing feature to show visitors who you are and what you know.
Ready for Your Next Job?
We're ready to help! At Liberty Staffing, we connect great people with great jobs. If you're out of work and eager to get back into the professional world, we're here for you. If you're currently employed but ready to make a change, we're here for you, too!
Let's talk and help you find a great job that starts right away!