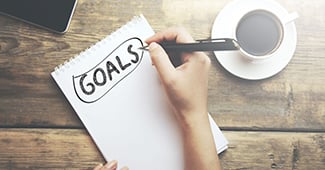 The new year is going to be here before you know it! It's time to start thinking about your career goals in 2023.
Goal setting is one of the best strategies to advance in your career. Whether you work in manufacturing, warehousing, retail, or any other industry, it's a great idea to start thinking now about your career goals in 2023.
Looking for a new job? Liberty Staffing is ready to help! Contact us today to find out more about open positions in your community.
Here are some things to consider while you're making your 2023 career goals!
Getting Certified Can Make You a More Desirable Job Candidate
Certifications are a minimum job requirement for some positions, but there are plenty of jobs where certification is not required.
There is value in seeking certification in your field of work, even if it's not a requirement of your current position. A great example of this is getting a forklift certification. You may be able to get a warehouse position without this certification, but most management roles and higher-paying positions expect you to be certified.
Certifications also make you a more appealing candidate for promotion. There may be positions within your company that you will never be eligible for until you have the right certifications.
If multiple people are being considered for a management role, certifications could be the thing that qualifies one person over another.
To find out more about what certification and educational opportunities are best for your industry, check with your managers. Often, employers will pay for some or all of the costs of continuing education in your area.
You Can Gain Leadership Experience by Mentoring Others
Are you trying to get promoted by your current employer? Maybe you're hoping to make shift supervisor or another management role.
One great way to show that you're ready to be a leader is to mentor your newer team members!
This can be official or unofficial. If your company has a program that pairs experienced employees with new ones, sign up to be involved. It can be a great way to build relationships and demonstrate your capacity for leadership.
Focusing on an Area of Improvement Shows Dedication
If your employer does performance reviews, take a look at your past reports. Are there some areas for improvement that you could work on in 2023?
Some common areas for improvement include communication skills, punctuality, time management, accuracy, work-life balance, and organization. Working on these areas gives you a chance to show off your growth during next year's performance evaluation.
If there is no official evaluation process at your place of employment, you can still focus on something you know needs to be improved. Not only will it make you better at your job, but you will also have a great example of personal growth to discuss in a future job interview.
Be Confident About Making a Change
Have you been thinking about making a change? Maybe you've been thinking about applying for a promotion or a lateral move at your current company. Or perhaps you're thinking about doing the same work for a different employer. You could also be considering a whole new career path!
Sometimes, it's easy to get overwhelmed by the prospect of making a big career change. There are a lot of unknowns and uncertainties when it comes to starting a new job.
At Liberty Staffing, we have worked with countless job seekers who have decided to make big changes. Whether they are changing because they want more opportunities, a different career outlook, a more flexible schedule, or just a better employee-employer relationship, we have helped them find new positions where they can thrive.
Liberty Staffing: Southern Ontario's Staffing Experts
We want you to be confident about your career goals in 2023.
For more than 20 years, Liberty Staffing has been supporting job seekers in Southern Ontario as they transition to new jobs and new careers. Let us help you too!
Whether you're looking for part time, full time, temporary work, or a permanent position, we have connections with the best employers in Southern Ontario.
Reach out today to find out how we can help you reach your career goals in 2023!