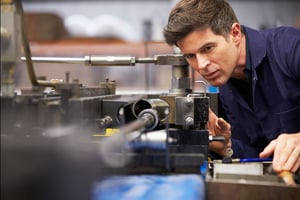 The manufacturing sector in Canada has been experiencing a talent shortage. As you and others in the industry head into the busiest time of the year, you're in fierce competition to hire the best for your business. Some of the people you're looking for are skilled and reliable Machine Operators.
How can you be sure you're hiring the right employees for your business? You'll want to make sure they have the right skills for the job. To that end, you're asking yourself, "What skills does a Machine Operator need?"
Machine Operators need to be detail-oriented team players. They'll need analytical skills, and they have to be able to read technical documents such as: blueprints, schematics, and operation manuals. You'll want to consider candidates who have the ability to handle heavy equipment, including the physical strength and stamina necessary for this task.
These are just a few of the many skills you want your Machine Operators to have. Look for these five the next time you need to hire.
1. Machine Operators Need to Think on Their Feet
You'll likely want your Machine Operators to be quick-thinking individuals who can analyze a problem and come up with a solution rapidly. If the machine starts acting up, they'll be able to pinpoint common problems and try to adjust the machine before calling a mechanic.
They'll also be able to look at production schedules and resolve conflicts. They'll be able to discover even more efficient ways to produce and meet their quotas.
2. They Need to Be Technically Literate
Your Machine Operators should be able to look at a blueprint or schematic and read it. This is a unique skill that's vital to what the Machine Operator does.
This kind of literacy allows them to make sense of these documents quickly and easily. From there, they can learn how to resolve problems, create efficiencies, and more.
3. Your Machine Operators Should Be Team Players
Most Machine Operators work by themselves at one work station. They're not working in total isolation, however, so you need everyone to be a team player.
Good Machine Operators are those who are willing to help their teammates and willing to provide leadership. They want to keep operations running smoothly, and they'll help all your team members become a well-oiled machine.
4. They Must Know How to Handle Heavy Equipment
Depending on the position and the industry you're in, the machines these employees operate could be considered heavy equipment. Even if the machine itself is not, your employees may need to use heavy equipment from time to time.
They should be trained in how to handle this sort of machinery safely. Physical attributes such as strength and stamina sometimes play into this ability, but knowing safety procedures and protocols is often more important.
5. Machine Operators Must Be Detail Oriented
Another skill you want your Machine Operators to possess is attention to detail and concentration. They should be able to perform a repetitive task for long periods of time without losing their focus.
They should also have attentive to detail. Even the smallest details can cause huge problems in production or cause a machine to malfunction. By paying attention to these details, your employees will be sure to keep operations running smoothly.
Do You Need to Hire Machine Operators?
Ensuring you get the right employees for your business can be difficult, especially during the holiday hiring rush. Get the right people on board by working with Liberty Staffing. We can help you find the people with the right skills to be great Machine Operators.