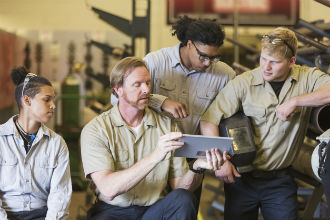 Temporary or permanent staffing agencies could be the key to boosting your workforce, and in recent years is considered the future of work in Canada! Hiring temporary staff is becoming a popular course of action for many companies. This is the case because whether you are filling positions for permanent staff who are away on sick or maternal leave, or have a special project that requires more talent agencies have you covered for hiring quality temporary employees.
There's no harm in being picky when it comes to choosing a staffing agency, however. There's a whole host of different temporary and permanent staffing agencies out there, some specializing in specific fields and others that are broader. You need to make sure you are engaging with an agency that suits your business' resources and goals the best.
The best way to do that is to screen staffing agencies with specific questions to determine if they are the right fit for your company. In that vein, here are 5 effective questions to ask when choosing a staffing agency.
1. How Does Your Agency Charge?
Each agency has a different way of billing for the temporary employees that you hire from them. Some charge companies an upfront retainer fee and other's charge a percentage fee on scheduled basis, usually after the candidate begins their work.
It's important that you're clear with a staffing agency regarding billing early on, so that if you decide to engage with them you know how to prepare for successfully-placed candidates. Be sure to clarify a set billing schedule (i.e. weekly, bi-weekly, etc.). Liberty Staffing will work with your billing requirements.
2. What Types of Employees Do You Provide?
Each agency has a different focus for what clients they provide temporary employees for. Some agencies specialize in IT for instance, while others (like Liberty Staffing) focus on industrial, warehouse, and office businesses. Choosing a staffing agency is ultimately about finding the best strategy to solve your company's staffing problems. You must know if the staffing agency you're engaging with is able to provide the kinds of talent you need.
3. Are You a Temporary or Permanent Staffing Agency?
Some staffing agencies only provide temporary employees, while others offer permanent staffing solutions. Liberty Staffing is one of the more flexible agencies that can provide both temporary or permanent employees.
If you're open to eventually hiring the qualified employees provided by your staffing agency, there is also the option of temporary to permanent, which is alike to a probationary period. Being able to determine how culturally fit a temporary employee is important to ensuring you're onboarding the right employee for your work environment and business goals.
4. What Happens If the Employee Placed Isn't a Good Fit?
Make sure to ask what happens in the instance that an employee does not integrate well, because you don't want the cure to be worse than the ailment when it comes to staffing issues. Your daily operation is at risk when you deal with bad hires.
A good staffing agency will provide a solution in the case that an employee up and leaves unexpectedly. As well, competent staffing agencies will have other temporary employees on deck to replace the ones sent if they are not a fit.
5. Can Your Agency Send Me Employees Quickly?
You should be aware of how fast a staffing agency can send your company talent. Your situation could be mission critical to your business, or you might just be preparing for when your staff dwindles at a certain time of the year for various reasons. Either way, it's significant to have a staffing agency that can fill your orders straight away, so you aren't left hanging.
If a staffing agency can answer all these questions with confidence, you've found yourself a winner.