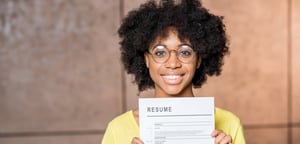 The summer starts early for most university and college students. After classes wind down and exams are over, you'll likely find yourself on the search for summer work.
You might have started your job search early, before your semester was even finished. If you're still looking for a job now though, you may be a bit frustrated. Why haven't you found work yet? After all, it's supposed to be a candidate's market. Nonetheless, people are still reporting that it's taking time to find job opportunities.
If you're struggling to find summer work, one of these five reasons may be the culprit. The good news is that once you know about them, you can correct them.
1. You're Not Looking in the Right Places for Summer Work
Take a look at your job search strategy. Where have you been looking for summer jobs? If you're searching only on LinkedIn and applying to any opportunity that crosses your path, chances are you're not finding the right opportunities.
Be sure to expand your horizons beyond LinkedIn and the large job boards. This is especially important for people looking to gain experience in a specific industry. There may be niche job sites you've overlooked.
2. You're Not Leveraging Your Network
Have you reached out to former colleagues or employers to ask about opportunities? Maybe you made a connection with a hiring manager at a conference or workshop. Perhaps your friends' places of employment are hiring.
If you haven't contacted these people, you might struggle to find summer work. Be sure to reach out to the people you know. Even if they don't have an opportunity available, they may know someone who is looking.
3. Your Resume Doesn't Have Keywords
Another common problem job seekers face when looking for summer work is that their resumes aren't up to standard. You've probably heard about the importance of proofreading and fixing spelling mistakes, but there's another fundamental error you might not have thought of.
Your resume might not have the right keywords.
Unless you're adjusting your application for each individual job post, there's a good chance you're being passed over. Many recruiters and hiring professionals use software to help them identify the best candidates. Those programs look for key terms and phrases.
Before you hit "apply," make sure you've adjusted your resume to reflect the job posting.
4. You're Not Working with a Staffing Agency
When it comes to finding summer work, a staffing agency, like Liberty Staffing, can be one of your best resources. Our experts can help you identify the right opportunities and help you find more jobs to apply to.
We want to help you find work you're qualified for. We can even give you tips for a successful interview. If you haven't talked to one of our recruiters yet, now's the time to do so.
5. Your Social Media Needs a Clean Up
Today's hiring managers often look at social media when they're reviewing potential job candidates. If you want to be considered, it might be time to give your accounts a spring cleaning.
You should be on your best behaviour on social media, especially if you're actively applying to jobs. Set your images to private and resist posting material that reflects poorly on you as an employee.
As you can see, there are many reasons you might be struggling to find summer work. Most of them are easy to address. Take steps to expand your job search, spruce up your resume, and get in touch with Liberty Staffing Services today! We can help you find a great summer job.