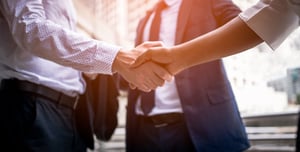 Fall is one of the busiest hiring seasons in Canada. It's quickly followed by the holiday season, which likely saw you scrambling to hire a number of people to fill seasonal roles with your business.
As we embark on the new year, you may be tempted to re-evaluate your hiring process. As the dust settles, it becomes easier to see where the challenges were and what you could be doing differently.
One thing you may want to consider is working with recruiters at a staffing agency, like Liberty Staffing Services.
Why should you work with a staffing agency?
There are many benefits for small businesses when they work with an agency. You can streamline your hiring process, finding the right people sooner. You can also fill a wide variety of roles, from temporary positions to fulltime permanent positions. You can save time and money. The list goes on.
How can you tell if partnering with an agency is the right choice for your business? These five signs could give you a good indication.
1. You're Spending Too Much on Hiring
Have you looked at the costs of your hiring process lately? If not, it might be time to run some calculations.
The hiring process often costs more than you think it does. On the surface, you may see only a handful of expenses, such as the cost to post the role on job search sites or the cost of the applicant tracking software you use to sort applications.
Have you factored in your team's time and the company's resources? The time it takes is often lengthy, especially if the right talent isn't found on the first try. The staffing agency solution may be more cost effective as a result.
2. You're Not Finding the Right People
Another reason you may want to consider partnering with a staffing agency is that you're struggling to hire the right people. How can you tell your hiring process isn't working? The people you hire are often gone after a few months, and your turnover costs keep climbing.
Finding the right people the first time around can help you reduce these costs and retain employees longer.
3. You're Not Reaching the Right Audience
Another issue small businesses often come up against is getting their job in front of the right people. Yes, you post on LinkedIn, but are the specialists you need to hire there?
A staffing firm can help you with this issue. They have a wider web of connections they can use to find the candidates you're actually looking for.
4. Your Hiring Process Took Too Long
Maybe you keep prioritizing other tasks over reviewing applications. Scheduling interviews can seem to be an impossible task because you're so busy. Perhaps you needed to start the hiring process all over again due to unsuitable candidates the first time around.
As a result, you don't get the people you need on site when you need them. A staffing firm can help you speed up and simplify the hiring process. You'll get the people you need, when you need them.
5. You're Unfamiliar with the Regulations
As a small business owner, it's quite possible you've never hired an employee before. If you have, you may be thinking about hiring temporary or contract workers for the first time.
Employment law can be complex, and you may feel overwhelmed by it at first. The experts at a staffing agency can help you navigate the regulations and make sure you hire correctly.
If you notice any of these five signs, it's time to get in touch with a staffing firm. Talk to our experts at Liberty Staffing today and discover how we can help you with all your hiring needs.