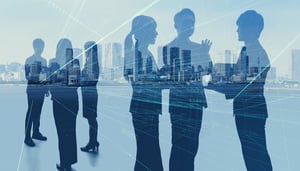 Like most business owners, you're probably setting your sights on growth for the new year. If that's the case, you might be thinking about all the things you'll need to do to effectively manage expansion of the business.

One of the factors in business growth is having the right level of staffing. Hiring too many employees may hurt your profitability, but being short staffed will undermine your ability to expand production and meet growing demand.
As you look to grow your business, take a moment to critically consider your staffing situation. Then adopt some of these five staffing goals.
1. Perform a Staffing Analysis
The first goal on your staffing list should be to perform a staffing analysis. After all, good business decisions are informed business decisions.
It's difficult to find the right staffing solution for your business without having all the information in hand. How many people do you currently employ? How many vacancies do you have? Where are the gaps in your current workforce capability?
An analysis will help you identify where you have enough talent and where you have gaps. This can help you make smarter hiring decisions. It can also help you analyze turnover trends. You may even be able to crunch the numbers and determine the optimal staffing levels required to reach your production and growth goals.
2. Consider New Staffing Arrangements and Flexibility
Another good staffing goal for businesses looking to grow in 2019 is adding increased flexibility to work arrangements. If you're not already using contract and temporary staffing to supplement your workforce, you most definitely need to consider adopting these types of employment options.
Why are they so important for your business? They give you the flexibility you need to meet production quotas at the busiest times, as well as reduce the number of employees on staff when business slows down. This helps you manage your costs more effectively as well.
3. Work with a Staffing Agency
If you're not already working with a staffing agency, now is the perfect time to make it a goal to find one. Make this one a priority.
Why? Staffing agencies like Liberty Staffing offer the most robust staffing solution for your business. Our experts can help you achieve all your other staffing goals. We can help you analyze your current workforce and determine your needs. We can also help you employ people on a seasonal, temporary, and permanent basis.
4. Focus on the Candidate Experience
Another thing savvy business owners are doing in 2019 is shifting their focus to the candidate experience. If you need to hire people, you should ensure they have a great experience, even if they're not the successful candidate in the end.
A good candidate experience offers your business many advantages. First, it encourages candidates to tell others about their positive experience with your company. It might also encourage more candidates to apply with you, giving you a larger pool of talent to choose from when you need to hire.
It's also the beginning of a great employer-employee relationship. Getting started on the right foot will keep your new hires satisfied longer, leading to lower turnover.
5. Adopt New Tools to Assist in Hiring the Right People
If you've noticed a pattern in turnover in your company, you'll want to correct it as soon as possible. High turnover makes it more difficult to manage growth.
One of the things you can do is adopt new tools. An applicant tracking system is one example. New screening tools and even different processes for writing job ads and determining where to post them could help you find the right candidates.
A staffing agency like Liberty Staffing Services can help you every step of the way. Manage your staffing goals in 2019 by contacting us today!