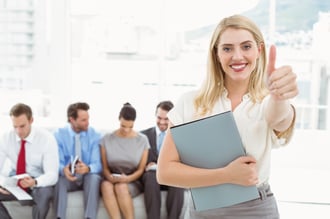 The retirement of the baby boomer generation, the entrant of the millennial generation, advances in technology—there are myriad reasons why your company needs to retool its hiring process. Out with the old and in with the new. To stay competitive and find and hire the best talent in today's market, you need to ditch outdated techniques and embrace new tactics. And you need to avoid making the same hiring mistakes you've made in the past.
1. Analyze the Traits that Lead to Success
If you already have employees, then you should have a general idea of why they're successful in their given roles and why others haven't worked out in similar positions. It's important to analyze the traits that indicate success and failure at your company in order to understand what to look for in new hires and what to avoid. Perhaps all of your successful employees are all natural-born leaders. Perhaps they're all persistent. Maybe they're all social butterflies. Alternatively, maybe all of the employees who didn't work out were impatient, shy, or had no management skills. When retooling your hiring process, make sure you have a list of proven qualities for success to look for.
2. Hire for Talent
The gap between supply and demand is set to expand in the coming years. You will need to retool your hiring process to hire for skill rather than experience. You see, soon, there will be more demand than supply, which is already occurring in many industries, such as information technology. The most experienced job seekers will be able to become free agents, leveraging multiple offers and negotiating for the best overall compensation package. This is going to put increased pressures on your compensation packages. If you cannot offer top compensation to win the bidding war, you'll need to look at your alternative option: hire for talent, and develop for strength.
To do this effectively, you'll need to think outside of the box and come up with new metrics to screen candidates in order to find the most talented individuals, which will not mean finding the most experienced and skilled. Hiring will only be the first step—training for professional development will be key.
3. Focus on Culture
Your business has a unique culture. The way you do things, the way your workplace operates, the vision and values you hold on to—all of these things shape your culture. If you're not assessing your candidates for cultural fit before hiring them, you're probably going to have a lot of bad hires on your hands, as well as a high turnover rate. Cultural fit is a leading indicator of hiring success.
Candidates whose values match yours, who believe the work you do is meaningful, and who can perform work in the ways that are consistent with your viewpoints are happier and more fulfilled with their jobs; therefore, they'll work harder, be more loyal, and stay for the long term.
4. Develop a Social Strategy
Social media is all the rage, but it's not just a passing trend, it's here to stay. You need to embrace it and make it part of your hiring process. Top candidates aren't looking for employment opportunities in the same ways anymore. Many look solely on social media, so you should be there, too. Announce your job opportunities on Twitter and Facebook and create a LinkedIn profile to increase your brand recognition, find passive candidates, and network with prospects.
5. Don't Rush
Your new hiring process should include a series of steps that need to be taken for each and every open position. Don't rush into any hiring decisions. You will need to take your time to carefully review applicants and perform skills assessments. You should have more than one interview per person, use metrics, and make sure you don't skip any of the steps, no matter how much of a time crunch you're in. Rushing will lead to bad hires.