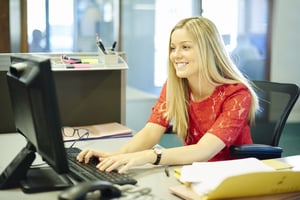 The end of the school year is complete for most college students, and you're probably starting to think about searching for summer work. Don't know where to start? No matter what stage you're at in your job search, this article can prepare you to get that perfect summer job. Here, we have five great tips for college students looking for summer work.
1. Check Your Online Presence
Even with your settings set to private, potential employers may be able to see some aspects of your social media activity. Take a look at your online presence through the eyes of an employer and see if there's anything you'd like to change. Un-tag yourself from any unflattering photos that may have come up over the school year and check your Twitter for anything that could deter employers.
On the positive side, consider creating an online presence that positively showcases your skills and experience. A personal website shows potential employers you're creative and tech-savvy. It could be something simple like a free blog with your resume and photo. However, if you are planning on getting a job related to your computer skills like web development or social media, consider a more developed and interactive website with a gallery of your previous work.
2. Think about Who You Know
Most jobs are obtained from informal networking rather than formal applications and job advertisements. Begin your search by telling friends and family you're looking for summer work. You might also want to reach out to former employers. They might be looking to hire you again or know of another company offering summer work to students.
Chances are someone in your network can lead you to an employer looking to hire a student, and your job search might go quicker than you think.
3. Tailor Your Applications Using Information from the Job Ad
Recruiters for large companies or anyone working with a large volume of applications will often sort through applications and eliminate those that don't reference keywords from the job description. To make it past this first screening phase, take the time to re-work your resume and cover letter to show how your work experience matches what they are looking for in the job ad.
Also, do your best to address your applications to the right person. Recruiters and HR reps look more fondly upon resumes and applications that have the correct name and pronouns on it. Taking the time to find out the correct name, either by searching online or by calling, shows that you take initiative and have an active interest in working for that organization.
4. Think about Your Future after College
What kind of career are you looking forward to after you graduate? Think about your plans for the future and see if you can find summer work that will get you closer to those goals. Consider temporary positions in your desired field that will help you develop relevant skills or make helpful contacts.
Summer jobs are also a great way to try out possible careers. For example, if you think you might want to go to law school, consider a summer of administrative legal work to get some insight into that career path before committing to a degree.
5. Apply to a Temporary Staffing Agency
If you're having trouble finding a summer job on your own, don't hesitate to apply to a temporary staffing agency. The recruiters can help you find open positions that match your skills, experience, and career goals, while helping you get a job more quickly than you could on your own.
Looking for summer work? Apply to Liberty Staffing today to get started.