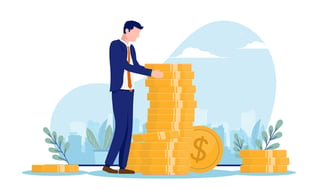 We have all heard about success stories in which a friend or relative has gone into a meeting with their boss and come out with a raise. It sounds pretty great to ask for more pay and get a raise!

However, there are some good and bad ways to go about a pay rate negotiation. Follow the tips in this article to make sure you increase your chances of success!
If you're looking for a job that pays better than the one you have now, check out Liberty Staffing. Our staffing professionals have helped countless job seekers find positions with better compensation and benefits. Reach out to Liberty Staffing today to find a career opportunity with a great pay rate!
1. Find the Right Time
Knowing when to ask for an increase in pay is tricky. One of the best times to negotiate for a higher salary is when you are being offered the job at the end of the interview process. While not every position has a negotiable salary, this is a good point in time to communicate a need for a higher wage.
If you have already been working somewhere for a while, it may be time to ask for an increase in salary if the tasks you are performing in your job go beyond what you were originally hired to do. If you have been given additional tasks and responsibilities, that may be the signal that it's time to request an increase in your salary.
Another good time is during your performance review. In fact, we recommend that you mention it before the performance review, so that your manager can consider your request when they are looking at your previous year's job performance. This is a time for them to recognize just how much you have been doing for the company, with an awareness of your desire for a higher wage.
2. Perform Well on the Job
You have to be able to justify an increase in your salary, and one of the best ways to do that is to perform well on the job. Always show up on time, be consistent in your performance, have a good attitude, support your coworkers, step up when it's needed, and be a team player. All of these things will help your managers realize how much they want to keep you around!
Just like a strong performance at work can help you earn a promotion, being really great at your job can also help you get a raise.
3. Know Your Industry
Sometimes, asking for an increase is as straightforward as knowing that there is a discrepancy between the industry standard and what you are being paid for your work.
If you're receiving a subpar salary for your position in the industry, it may be time to raise a concern about the discrepancy to your managers. After all, if you can easily switch to a different employer and do the same job, why wouldn't you? But you have already proven that you are a good worker and someone they want to keep around, so there is an incentive for them to match what competitors in the area are offering.
4. Be Prepared to Justify the Change
Going into a meeting and asking for a raise because you want one is not enough. You have to be able to justify the change in your wages. Whether that is because of your performance history, industry changes, your long tenure with the company, a change in your job tasks, or some other reason, practice explaining your reasons before you go into the meeting.
It is important to avoid the impression of demanding a raise. Instead, you are justifying an increase in your salary because you recognize your value to the company and want to stick around.
5. Get Certified
Looking to increase your value to the company? Ask yourself what kind of certifications are available for you! For example, if you're a warehouse worker, you will increase your value to the company if you are also forklift certified. If you work in an office setting, you can get certified in various software platforms, like Office or Google Suite. Sometimes, employers will pay for certifications, which means you are able to increase your value without spending money of your own!
Apply to Liberty Staffing!
If you find that your current job isn't meeting your financial needs, there are other jobs out there for you! Liberty Staffing Services has lots of jobs available with great pay rates.
Talk to us here at Liberty Staffing, as we are here to help job seekers across Ontario find jobs that they love. And jobs that pay them well!