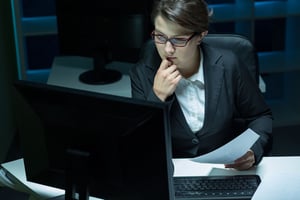 The holiday season is quickly approaching. For many businesses across many industries, that means production is about to kick into high gear. While fall brought with it a flurry of hiring, you may find you still need to fill more positions to keep operations running smoothly during the busy holiday season.
How can you ensure optimal staffing levels this holiday season?
There are quite a few tips and tricks you can use, such as working with a staffing agency, hiring temporary workers, adding overtime shifts, and improving employee engagement to boost retention and productivity.
Check out these five tips, and you'll be on your way to achieving optimal staffing levels for this busy time of year.
1. Hire Temporary Workers
One easy way to ensure you have the right number of people for the holiday season is to hire a few more employees. The trouble is you know production will fall off come January, and you won't require the extra help at this time.
Why not hire temporary workers instead? If you make the hire in October, you can have a three month contract, which will see these workers help you during the busiest part of your year. When things slow off again in January, their contracts are finished, and you'll part ways amicably.
2. Improve Employee Engagement Before the Rush
Another step you can take to ensure optimal staffing levels is to turn your attention to the employees you already have on staff. Your employees likely work hard, and hopefully their engagement levels are quite high.
What if they're not engaged? Disengaged employees tend to be less productive. They may even think about leaving the company, which would leave a vacant role for you to fill while you're busy.
By taking steps to improve employee engagement, you can boost productivity and lower your turnover rate. Your employees will be happier too.
3. Work with a Staffing Agency
If you do find yourself in a position where you need to add more workers, whether temporary or permanent, your best bet is to team up with a staffing agency like Liberty Staffing.
The experts at the agency can hire faster, and they'll have workers ready to fill roles within your company in no time. In turn, you will get the help you need when you need it the most.
4. Add Some Overtime Shifts
Adding overtime shouldn't be your first move when it comes to ensuring optimal staffing levels during the holiday season, but it is an option. Unfortunately, most employers use it as a first line of defense, which leads to other issues, including employee disengagement and burnout.
If you've already hired temporary workers and worked to improve employee engagement and lower turnover, adding overtime shifts could help you achieve the staffing coverage you need. Use this option sparingly, however, to keep overhead costs in check and keep employees happy.
5. Ask Students to Return
If you had hired summer students, they may be back in town for a few weeks near the end of the year. University and college classes often finish near the end of November, and students may be willing to return to work for a few weeks. If you still have students on staff, ask if they'd be interested in picking up extra shifts.
This arrangement benefits both you and the students, since you can get employees who are already trained and ready to start work on the floor in short order. The students continue earning wages and honing their skills.
Are You Ready for the Holiday Rush?
As the fall continues, you're likely seeing business picking up. If so, you'll need to be prepared for the holiday rush. Start hiring now to avoid being short staffed later on, when you're the busiest.