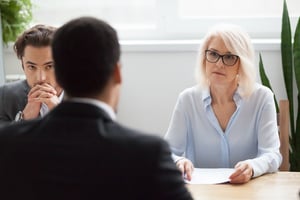 Most professionals involved in hiring know exactly how complex the process can become. From writing the perfect job description, to posting in the right places, to making sure you're screening and interviewing the right candidates, hiring is fraught with challenges and potential stumbling blocks.
The more complex your hiring process, the more stress it's likely causing you. Just how is your complicated process stressing you out?
There are a number of different ways hiring processes can affect stress levels for hiring managers, and almost any other employee in the business. It may take you too long to hire the people you need. You may not be finding the right candidates, or you may be posting in the wrong places.
Here are a few of the most common ways the hiring process causes stress when it's too complex. There are also some tips to help you streamline your process.
1. The Hiring Process Takes Too Long
Perhaps the most common way a complex hiring process causes stress in an organization is that it just takes too long. The average time to hire for most businesses is just over a month.
There are reasons it takes this long. You need time to post the job, and then time to collect and assess applications. Interviews and screening tests have to be conducted. Finally, you need to make a final hiring decision.
Still, the more complex the process, the longer it will take to complete. You may stall out at certain stages. This all adds up to stress for both those doing the hiring and those who are trying to compensate for the open role.
2. Sorting Candidates is a Chore
You've posted the job, and you've received some applications. Now you need to sort through them to find the right candidates to interview.
Are you still doing this manually? You could save time by using automated tools to help you screen applications. This would simplify the hiring process and make it much more efficient to review applications.
3. Trying to Post the Job is a Pain
How do you create job descriptions, and how do you decide where to post them? A complicated hiring process may not make these tasks efficient or even very clear.
If creating job descriptions requires input from a number of different people, you may find you're slow in even posting the job. You may also find your job descriptions aren't using the right language to attract the talent you need.
Create a streamlined process to write job descriptions. It will help you craft better descriptions, find the right candidates, and save time.
4. Screening and Interviewing Takes Too Long
You have to administer some screening tests before you can bring anyone in for an interview. You use a two or three step interview process, or you use some combination of screening tests and interviews to find the right candidates.
All of this adds up to time and stress. Too many screening tests and too many interviews add unnecessary layers of complexity to your hiring process. Ask the right questions, and administer the right tests to streamline the process.
5. You're Not Working with a Staffing Agency
The best way to simplify the hiring process and save yourself some stress? Work with the experts at Liberty Staffing Services. Our recruiters know how to streamline the hiring process to make it both simple and effective.
If your hiring process is taking too long, or demanding too much of you and your staff, talk to someone at Liberty Staffing today. Making better hires has never been easier!