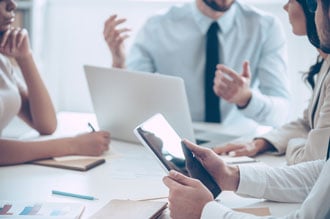 Nobody wants to bring unproductive employees into the workplace. An organization's culture and morale can suffer greatly from the wrong hire, not to mention the cost that comes with all that time spent hiring a candidate who doesn't work out.
Research shows that negativity in the workplace can be contagious, and an unproductive employee can certainly have a negative impact on your workplace as a whole. Hiring an unproductive employee will have a noticeable impact, especially when compared to hiring a superstar candidate. One study shows how one toxic employee can eliminate the benefits of two superstar employees.
Fortunately, hiring unproductive employees doesn't have to be a part of your business. By being critical of things like gut feelings, impeccable references, and employee referrals, and by adopting positive employment techniques like patience, teamwork, and structured interviewing, you can avoid hiring mistakes and get back to building a stellar team.
1. Ignore Your "Gut Feeling"
Don't take it personally, but hiring based on a gut feeling can lead to taking on the wrong candidate. If an employer feels positively about a candidate, you don't need to entirely ignore the chemistry that may be in the interview, but hiring entirely on a gut feeling leaves out many important aspects of the hiring process.
2. The Power of the Reference
References are great tools for seeing how an employee has fared in the past, while also getting a glimpse into their previous successes. That being said, not all references are built equally. You can save your company the cost of a hiring mistake by being slightly critical of a strong reference letter. Candidates want to showcase their best and will choose references that can help highlight their strengths. As a result, you shouldn't base your entire decision on a strong reference letter.
3. Don't Hire Too Quickly
When there's a gap in an organization, employers will want to fill it as quickly as possible. A vacancy in a company can cause desperation among its workers—a feeling that shouldn't have any part in the hiring process. Hiring out of desperation can lead to settling for unproductive employees rather than hiring top talent. Despite the pressure, take the necessary time in the hiring process to make sure your candidate will be a positive contribution to your team.
4. Referral Skepticism
Like reference letters, being skeptical of internal referrals has its time and place. An employee may not deliberately seek to mislead your hiring team, but it's very possible that your employee may be operating under false assumptions about their friend or acquaintance. For the best hiring decisions, using an honesty and integrity test can supplement a referral by weeding out any potential for dishonesty or irresponsibility in the workplace.
5. Involve Your Team
Involve your team in the hiring process and test the waters for a good culture fit. By giving your candidate the opportunity to observe your team and your organization's values, you can eliminate potential unknowns and make it clear what type of environment the candidate may enter into.
6. Follow up on Behaviour
When following up with references, you'll want to get the best picture of what type of employee your candidate will be. Understanding the candidate's behaviour and manners will help you assess how they will fit into your workplace and reduce the chances of bringing on unproductive employees.
7. Structured Interviewing
Luckily, you've found a candidate with impressive resume writing skills and you're ready to move onto the interview stage. Structured interviewing is a technique that depends on asking each candidate the same questions in the same order. According to research, structured interviews are likely to accurately predict a candidate's performance.
Contact Liberty Staffing and you'll be sure to avoid hiring unproductive employees.