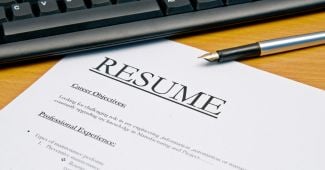 Your resume is how your potential employer first gets to know you. Chances are that you already know that the basic components of a resume include your contact information, work history, and relevant skills. But how do you actually lay that out on the page?
Sometimes, the process of actually getting all of the information on the page is so overwhelming that it can make you want to give up.
We can help. At Liberty Staffing Services, we help job seekers find great positions all the time. That means we look at a lot of resumes every day, and we know what works. If you want us to take a look at your resume and help you find a job, reach out to us today!
In the meantime, here are 8 tips for the best layout and format for your resume.
1. Place Your Contact Information at the Top
The first thing your potential employer needs to know is who you are. What is your name, and how can they get in touch with you?
Your name and contact information should go at the very top of the resume. That includes your full name, phone number, email address, and city/province. Mailing addresses are no longer necessary on resumes, but you should at least tell the hiring manager where you are located.
We recommend that you put your name in a larger font and in bold text. A lot of people do a header with their name centered at the top of the page and their contact information centered below that.
2. Follow Your Contact Info with a Professional Bio Statement
In general, objective statements are long gone. Instead of a statement explaining that you're applying for a specific job at a company, use this space to provide a brief description of who you are and your biggest strengths. If the person reviewing resumes was only going to look at this one thing, what would you want it to say?
Here are some examples that you can use as a model for your professional profile:
A proactive office manager, skilled at streamlining workflows, implementing new systems, and increasing team productivity and collaboration. Also an exceptional problem-solver who can operate independently.
Efficient warehouse lead, highly adept at maximizing productivity and accuracy. Leverages data insights to continually improve warehouse processes and layout optimization.
Customer service-driven retail professional with 5 years experience providing exceptional service and driving sales. Quickly builds rapport with patrons and delivers solutions to meet their needs.
3. Use Reverse Chronological Order
This resume layout tip is easy and straightforward.
All of your information should be provided with the most recent job first. Then, work backward from there.
4. Align Your Columns and Rows
When inputting information like company names, job titles, locations, and dates, make sure your information is carefully aligned.
We recommend putting dates on the right hand side of the page, and company names and positions on the left.
But regardless of where you put the information, you want to make sure that everything is easily scannable and readable. Your resume layout should be easy to skim.
5. Use Bullet Points to Cover Lots of Information in a Readable Format
Bullet point lists are an amazing tool for any resume. Avoid putting long sentences after bullet points though. Instead, use short phrases to move the reader quickly from one accomplishment to the next. Being concise provides your resume with two key advantages: First, it allows you to convey far more information in just a few words. Second, your resume is a lot easier to read because it has more white space on the page.
6. List Your Applicable Skills
You can learn applicable skills anywhere! After you cover your educational accomplishments and your professional background, it's time to include your relevant skills.
Not sure what skills to include? Check out our blog post for first time job applicants who need this section to do extra work because their professional section is going to be brief.
7. Keep It to One Page
Unless you have been asked to provide a CV (which includes a lot more information than a traditional resume) or you have more than 10 years in your field, your resume should be one page long. The maximum length for a resume would be two pages.
8. Don't Overdo It on Fonts
Traditional, easy-to-read fonts are much better than flashy, attention-grabbing, or decorative fonts. Although you're welcome to use different features like headers and subheaders, all of your content should be easy to read. You don't want to switch fonts too many times either, as that creates visual chaos on the page.
Ready For Your Next Job? Liberty Staffing Can Help!
Formatting your resume is a big job, but investing the time in this part of the application process means you will have a polished, professional document that will help you stand out.
With these tips on resume layout, content order, and overall presentation, you will create an effective resume that catches the attention of the hiring managers you want to impress.
If you want more guidance tailoring your resume to a specific role or industry, the experts at Liberty Staffing are here to help. Our team has placed thousands of candidates with top employers across Southern Ontario, and we look forward to learning about your skills and career goals.
Contact our office today to take the next steps in your job search. Our recruiters will provide the coaching and connections you need to transition into a new, exciting role that matches your specific strengths.