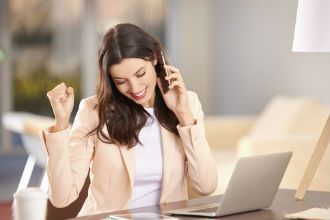 Hiring the right people for your business can be a tricky task, especially when hiring managers are faced with interviews over the phone. Often, businesses don't have the resources to schedule in-person interviews, where body language and personality quirks can be more apparent.
Don't worry! Here are five phone interview tips for hiring managers to ask the best questions.
1. Be Polite
Although this may seem like a "no-brainer," being courteous and polite is perhaps the most basic of phone interview tips.
Audio communication removes any information that can be gleaned from talking mannerisms or nervousness a potential interviewee may have. By simply being nice and softening the tone of your voice, you may find that your candidates will be more open and candid throughout the interview.
2. Don't Be Afraid to Ask the Hard Questions
It's important for hiring managers to catch inconsistencies with potential hires, so they can't be afraid to ask about any peculiarities related to a candidate's application.
Does the candidate have a strange gap in work experience? What about incomplete education? This kind of missing information can potentially be a "red flag," but they could also be a marker of some experience or personal situation that can affect your decision to hire them.

For example, while incomplete education may indicate a lack of commitment, there could be extenuating circumstances that resulted in the withdrawal from a program. Furthermore, the candidate could have since made up for it in other ways that could potentially be beneficial to your company.
3. Make the Job Expectations Clear
If you're looking to solve a particular staffing issue within your company with a new hire, make sure you're clear about the duties and expectations of the job.
If you're upfront about what your business needs, candidates are sure to reciprocate, even if you're only speaking to them over the phone. By letting them know the day-to-day workings of your business, you'll also be able to see if the candidate is eager or reluctant to tackle the work that you're expecting.
4. Actively Listen
Knowing when to be quiet and to listen carefully to a candidate's answers is perhaps one of the most important phone interview tips. It's just as important as asking the right questions because most job seekers are nervous to be interviewed to begin with and, due to the nature of phone interviews, it's hard for personalities to shine over audio.
That's why it's important to give potential hires adequate time to think about the responses to your questions and to listen attentively to what they say. It's hard to judge over the phone, but vocabulary and word choice could be indicators of a certain level of work ethic. Conversely, short monosyllabic "yes" or "no" answers could also mean they're not taking the interview seriously.
Give interviewees time to breathe but also try to glean as much as you can from awkward pauses or silences.
5. Follow Up
It's especially important when conducting phone interviews that you clearly outline what comes next. Whether it's scheduling a future in-person interview or merely stating when the candidate should hear from you, it's always a good courtesy to be clear about what will happen.
Part of this follow up process may be doing a little bit of research about the person you just interviewed. A LinkedIn profile is a good tool to see if a potential hire was honest about their education and/or work experience. In addition, social media is a good way to avoid hiring the wrong candidate and may give you more information about the kind of personality you may be bringing into your business.