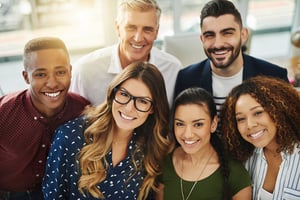 The holidays are finally over and as the calendar flips to the new year, you'll probably experience a slowdown. Many companies face more downtime during January. If you were particularly busy through the fall and holiday season, you might even see it as a welcome reprieve.
A slowdown might suggest that you should let go of some of your seasonal employees. You may want to reconsider. Be sure to take these seven factors into account as you think about optimal staffing levels in your business.
1. Downtime May Not Last
Not all slower periods last, so letting go of all your seasonal employees right away might be risky. While many businesses experience a slower time in January, many are looking at hiring again by February.
If you can, keep on your best seasonal employees. It could help you if you get unexpectedly busy again sooner than you planned.
2. Current Employees May Leave
Another reason you might want to hold onto some of your seasonal staff is that January is a popular time for people to turn in their two weeks' notice.
Many people see the new year as a good time to start fresh. For some, this means making career changes. Some of your current employees may decide to head back to school, while others will test their luck in the job market.
Having one or two of your seasonal employees still on the roster can help you manage gaps.
3. It Helps Cover Illnesses
Many people end up with colds or the flu during the winter season, which could leave you short staffed.
If you can retain a few of your seasonal employees, you can offset employees' sick days and keep operations running smoothly.
4. It Saves You Time Hiring
You might be looking at downtime early in the year, but take a look at when you expect business to pick up. If it's February or March, it may not make sense to let go of your seasonal employees just yet.
After all, you'll be hiring their replacements fairly soon. You may think you'll save money by saying goodbye to your seasonal staff, but the time, effort, and cost of hiring again soon after will likely erase any savings you see.
It may be more economical to keep your seasonal workers on staff for a little longer.
5. You've Found Some Great People
It can be difficult to find and hire the right people, so when you find workers who are a great fit, you should think twice about letting them go. This is particularly true if you know you're going to be hiring again in a few short weeks.
If you let go of these great employees now, they may not be available to come back when you need to hire again.
6. The Job Market is Tough
In 2018, unemployment in Canada hit record lows, and many industries were facing talent shortages. The situation for 2019 appears to be more of the same, with the market playing in candidates' favour.
You might think twice about letting people go in this environment. You may find it more difficult to fill roles, or you may not find the skill set and talent you're looking for.
7. You Expect to Grow
If your business projections for 2019 include growth, it's probably a wise idea to hang on to your seasonal employees. That way, you'll already have people in place when business picks up again.
If you are expecting growth, you may still need to hire for 2019. Get in touch with Liberty Staffing and get a hiring plan in place before you need to hire.