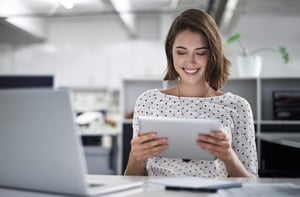 Not sure how to land your dream job? Are you finding little success using online job boards? Don't get discouraged. Handling the dream job search on your own can be hard. Sometimes, the best decision you can make is enlisting the help of a staffing agency.
Working with a staffing agency opens dozens of new doors that weren't available to you before. With expert knowledge and years of recruitment experience, finding work through a staffing agency can be the secret to landing you your dream job. Keep reading to see exactly how working with a staffing agency can help you with the job hunt.
Expert Knowledge
Staffing agencies are experts at finding you the position you've been dreaming about. With an unparalleled knowledge of the various industries and their job markets, finding work through a staffing agency gives you eyes and ears on every job posting—something you don't have on your own.
Whether it's a permanent or temporary position, staffing agencies are professionals at matching your skills to the perfect position. Your dream job is just an application away when you find work through a staffing agency.
Access to Unlisted Positions
Unfortunately, not all jobs are posted or shared online. In fact, experts estimate that between 80 and 85 percent of jobs are never listed. This means your dream job could be closer than you think; you're simply unaware of it. Many companies opt to outsource hiring in order to save time, money, and find access to better candidates.
Finding work through a staffing agency gives you the inside scoop on jobs that you otherwise wouldn't hear about. No longer will you have to search through job boards hoping to stumble upon the perfect match. By working with a staffing agency, you can find your dream job regardless of whether it's advertised.
Refine Your Resume
Having a resume that doesn't measure up or impress employers won't help you land your dream job. It's likely you don't know the little things employers are looking for.
Finding work through a staffing agency means you'll have access to resume experts. From updating resume formats to adjusting information, staffing agencies know how you can look your best on paper.
You Can Finally Relax
Job hunting is stressful. We've all experienced the struggle of applying to online job postings or cold calling offices—it's exhausting. The best part of working with a staffing agency is letting the professionals handle the legwork while you relax. Pressuring yourself to find your dream job can make the search harder.
Relaxing and finding work though a staffing agency means a qualified professional is finding job opportunities for you. They're even starting the process to land you in the interview chair! Let yourself relax and let a staffing agency find your dream job for you.
Someone On Your Side
Never underestimate the importance of having someone in your corner—especially when it comes to finding your dream job. When finding work through a staffing agency, you always have someone supporting your job hunt. After all, the agency wants to see you succeed!
From preparing you for your interviews, to answering your questions after being placed at your dream job, staffing agencies are with you every step of the way. No longer will you have to worry about not measuring up to the competition or missing out on opportunities: a staffing agency makes sure your best foot is always put forward.