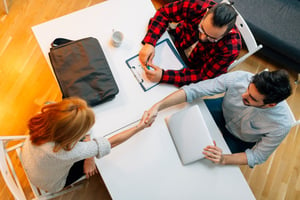 The benefits of hiring temporary staff have become increasingly clear over the last few years. More and more companies are choosing to fill positions with temporary workers, in a move to make the hiring process more efficient and ensure the best quality work.
There are seven key reasons you should consider hiring temporary staff if you haven't already.
1. Flexibility
Not all of the positions you have open are going to require a full-time hire. Bringing on permanent employees when they are not actually necessary is both costly and inefficient.
Consider the workload associated with the open role. Are you hiring an employee to help with a project that has a fixed timeline? Both of these situations are great examples of when hiring temporary staff may be more appropriate.
2. Trial Runs
Anyone who is involved in the hiring process knows that hiring is costly business. Unnecessary hiring mistakes can put you behind while also losing you money.
One of the best reasons to hire temporary staff is because they don't require the same level of commitment as a full-time hire. If a temp is not working out, you can find someone new. However, if you like their work, you have the opportunity to extend the position further.
3. Pre-Screened Candidates
Screening new hires to ensure that they meet all the necessary requirements for the position is incredibly tedious. It can also require a lot of subjective decision making that opens you up to risk.
Agencies that specialize in temporary staffing make it their job to pre-screen each and every candidate so that by the time you meet them you can be absolutely sure they are qualified.
4. Specialized Skills
Another one of the great reasons to hire temporary staff is that you gain access to workers who have specialized skills you may not be able to find among candidates who are looking for full-time employment, or even among your current staff. Temporary workers are known for their ability to take on specializes tasks that require a particular set of skills, making them a great choice if you have a niche position to fill.
5. Less Training
Not only are temporary workers more likely to have specialized sets of skills, they also come to you already trained and ready to work.
For a lot of companies, available positions are time sensitive—the longer they remain vacant the longer the company is unable to function at full speed. The ability to bypass lengthy training is one of the best reasons to hire temporary workers.
6. Less Paperwork
When you work with a temporary staffing agency, the temp workers that it provides technically work for the agency, not for you. This has a whole host of benefits including the fact that the agency is the one responsible for ensuring that their paperwork is done correctly and that their paycheques are on time. You just have to pay the agency and it will take care of the rest.
7. Money Saver
A lot of the reasons to hire temporary staff that we have previously mentioned come with the added bonus of being more cost efficient. Less training, less paperwork, less commitment, and pre-screening all translate to savings for your company when it comes to hiring.
Filling positions can be an incredibly expensive procedure, especially when it is done inefficiently. When you work with a staffing agency, you are basically ensuring that the process is as efficient and cost-friendly as possible, which is great for any company's bottom line.