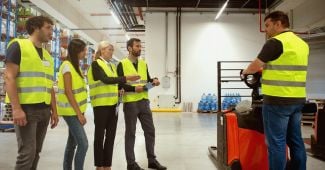 In the current labour market, many warehouses are struggling to retain their staff. You're probably already using some creative problem solving to maintain your staffing levels, including offering bonuses, working with a staffing agency, and hiring temporary staff.
The industry is currently plagued by high turnover rates, which are caused by several different factors.
One factor that sometimes gets overlooked when people are trying to solve their staffing problems is their training processes. Improving your warehouse training protocols could help you improve your employee retention levels.
Training programs can increase employee satisfaction, boost engagement, and ultimately improve your retention levels.
Reach out to Liberty Staffing to find out how we can help you build a great team – a team you will hold onto with excellent training programs!
Let's take a look at some proven strategies for strengthening your warehouse training.
Onboarding and Early Training Sets Employees Up for Success
Many warehouse workers receive only minimal training when starting a new job. This may include a few safety videos or a couple of days of job shadowing.
You can set up your new hires for success by providing them with a more thorough onboarding process. Help them feel confident from day one.
A thorough and detailed onboarding process also helps to prove to your employees that you believe they are worth investing in. A cheap, out-of-date training course can leave new team members feeling like you don't care whether or not they do their job well. Of course, that's not true at all – but bad training can give your employees bad ideas.
Cross-Training Prevents Burnout
Warehouse tasks can get a bit repetitive. That redundancy comes with the gig, unfortunately, and that can sometimes lead good employees to look for something else.
Cross-training for multiple positions allows your employees to change their responsibilities from time to time. You can't have that kind of flexibility without effective training.
Some cross-training opportunities include:
Shipping and receiving: Both shipping and receiving jobs deal with truck loading and unloading, inventory tracking, and organization. There is enough overlap that it makes sense for employees to rotate these roles periodically.
Pickers and inventory management: Pickers often develop familiarity with products and their locations, so it makes sense for them to help with inventory management tasks.
Forklift operators and other equipment operators: It's a great plan to get your employees licensed to operate both forklifts and other equipment like reach trucks.
You can also train all of your employees in hazardous materials handling and prepare your managers to jump easily from one area to another.
Offer Consistent and Ongoing Training
Invest in ongoing training for your employees, as this provides your team with growth opportunities. This can prevent stagnancy and boredom, as well as promote an environment of self-improvement in the workplace.
Employees are more likely to stick around if they can see a future path toward advancement.
This can include offering tuition benefits, covering registration costs for online and in-person training courses, and providing opportunities for licensure and certification.
On-site at your warehouse, you can offer computer skills training, leadership development opportunities, and more.
Safety Training Prevents Injuries
Warehouse managers know all about the various occupational hazards in the workplace. Everyone wants to make sure their employees are safe on the job!
Instilling a strong safety culture through training from day one can help you prevent injuries. Some great training opportunities include proper lifting techniques, how to use PPE correctly, and how to operate all machinery and equipment safely.
Proper safety protects both your employees and your warehouse.
Training Builds Confidence
Comprehensive training gives your employees the confidence they need to perform their roles successfully.
Employees who feel capable and assured in their skills are much more likely to stick with your company. Good training shows them that they have the tools and knowledge to thrive in their new role.
This confidence also provides your team members with a sense of value. This is one of the best ways to foster loyalty to your company, thus reducing the likelihood of high turnover rates. People want to work for companies that invest in their employees.
The Importance of Good Training
Good wages and benefits are certainly crucial to retaining employees, but you can't ignore the importance of high-quality training and onboarding.
When you invest in training programs, you demonstrate commitment to your employees – and they can tell! You are also supporting their long-term success, which of course benefits you, too.
Focus on training that improves safety, increases productivity, and strengthens your employees' leadership skills. In a competitive hiring landscape, warehouses that focus on training have an advantage over everyone else.
Struggling with Understaffing Issues? Liberty Staffing Can Help
We know that it can be a challenge to hire and retain great employees in any industry, especially warehousing.
Let us show you how we can help you find a great team of employees and keep them around for years to come. Liberty Staffing Services places temporary, temporary to permanent, and permanent employees with companies all over Southern Ontario, including warehouses like yours.
Contact us today to talk about how to solve your staffing problems quickly.