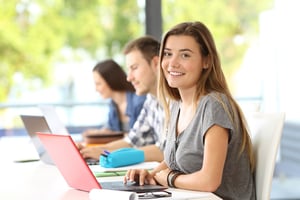 Finding summer work as a university student is a challenge. You need to contend with your fellow students, high school students, and other candidates in the gig economy looking for side work. Then there's the matter of being able to land a seasonal job that won't impede the productivity of your studies, if you're returning to full time classes in the fall.
The good news is finding summer work as a student doesn't have to be a struggle. Sometimes, the key to improving the summer job search is to tackle the challenge from a different angle. Engaging recruitment agencies, for instance, is a particularly productive way to land opportunities that suit your work goals.
If you're curious about how these agencies can help you find summer work, keep reading. You'll be surprised at how flexible your job options are.
Tap into an Exclusive Local Network
Often, when university students are looking for summer job opportunities in their neighbourhood, their chances are slimmer because they're all competing for the same listings. This sort of "first-come-first-served" scenario only benefits those who were able to hit the local market the earliest and leaves few options for those whose studies perhaps ended later than others.
When you apply to recruitment agencies for summer work, you'll gain access to an exclusive network of local partnered companies. These companies often post job listings first through the agency's job boards before looking externally for candidates in the local market.
These companies trust the expertise of the recruiters at these agencies from previous placement experiences, and will give priority to candidates found through the agencies. As a recent survey by LinkedIn astutely estimates, 85 percent of all jobs are filled via networking.
Find Temporary Jobs That Won't Impact Your Full Time Studies
One of the trickier aspects of landing an ideal summer position as a university student is finding one that will allow you to easily go back to your class schedule in the fall. While there are some seasonal positions available during the summer, many employers use seasonal positions as a way to hire more permanent employees at the end of the season.
Recruitment agencies have flexible options for their applicants and will work with your preferences. You can choose to only accept temporary jobs that end before classes start. That way, you can focus on earning extra cash and experimenting with career paths without worrying about how your work schedule will clash with your fall semester schedule.
Senior and Part Time University Students Can Get Their Foot in the Door
Last but not least, if you're a senior or part time student applying to a recruitment agency, there's an option that will help you gain permanent employment after the summer. Some recruitment agencies, like Liberty Staffing, offer temporary-to-permanent placements.
These placements are like extended training and probationary periods where you and your employer can determine whether you're a good fit for the position and work environment. If the placement is successful, you could land a permanent position at a company you enjoy working for.
For senior university students, temporary-to-permanent placements can help them get their foot in the door early at a company and have a position waiting for them after they graduate in the fall. For part time students, temporary-to-permanent placements can land them a permanent part time job that offers a way to pay for tuition among other benefits.
Engaging a recruitment agency is a university student's best bet for finding summer work that suits their individual goals. If you're a student looking for a summer position, apply online to Liberty Staffing today to maximize your opportunities!