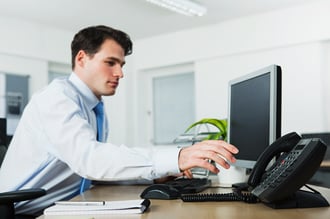 Finding a qualified receptionist who will be an asset to your business isn't easy. It's also time consuming, costly, and risky. But the good news is you do not have to take on the time commitment, the expenses, or the risks on your own. You can get the help you need by partnering with a staffing agency.
Here's why it's the best solution to your hiring woes.
They Know Receptionists
Staffing firms that place receptionists with companies on a daily basis undoubtedly know what traits, skills, and experience are crucial for success in these types of positions. They know the type of work that will need to be handled and what skills candidates will need to be able to manage them expertly and efficiently. They know what to look for in candidates, they know the right questions to ask during an interview, and they know how to effectively weed out the unqualified candidates who wouldn't be able to cut it.
This will ensure that you only hire qualified receptionists who will be assets to your company.
Considering All Factors
Many factors need to be taken into account when hiring a new receptionist. You cannot only look at your candidates' experience and skills. These capabilities and past work history may ensure that you're hiring the right candidate for the duties, but it doesn't tell the whole story. You also need to consider cultural fit in the workplace to ensure that the worker is a match to your management style, your current workforce, and your values and beliefs. You must also consider whether or not the new hire will likely want to continue working for you for a long time—otherwise, you could face high turnover costs.
Staffing services companies can evaluable candidates based on all angles to ensure that your new hire is the perfect fit in every way.
Any Industry
When you work with a niche staffing services firm that specializes in placing receptionists, you'll be able to get the right worker, no matter your industry. Virtually all sectors in the business market need receptionists, but these positions will differ depending on the industry. Medical receptionists will need to understand medical terms, and legal receptionists will need to know legal jargon to do their jobs effectively, for example.
Your staffing firm will ensure that your new receptionist is not only right for the position, but right for the industry you operate in as well.
Last Minute Recruiting
Most businesses only hire when they are in need—when someone resigns or when staffing needs overtax existing manpower. This leads to tight deadlines and undue pressure on managers to find and hire new receptionists quickly. In their haste, they might not properly evaluate or recruit the best talent, leading to bad hiring decisions.
When you need to hire a receptionist quickly, then taking advantage of staffing services is your best bet. You'll gain access to a large network of candidates, all who are pre-screened and pre-approved, so you can fill your open positions quickly.
Hiring Knowledge
Though managers try their best to hire top talent, many do not have the extensive hiring knowledge required to find the ideal candidates for the job, the industry, and the company. They might not know where to look to find top talent or they might not have the time, resources, or money to reach out to the best locations. This problem can easily be corrected by engaging a staffing firm.
Temporary, Temp-to-Perm, and Permanent Staffing
You may only need a new receptionist for short-term office work when your current secretary is on leave or when there's extra work to be done. You might need be looking for a long-term staffing solution. Or you might be looking to test out candidates before you hire them to ensure they're the right fit. Regardless of your hiring needs, a staffing services company can help—be it for temporary, for temp-to-perm, or for permanent hiring.
Contact Liberty Staffing to hire a new receptionist today.