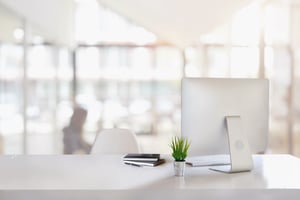 Unemployment has been trending lower over the last few years, which has led to a candidate-driven job market. In other words, since there are fewer unemployed people, there are also fewer people looking for jobs.
This can make it even tougher for employers to find the right talent for their business. You'll be in stiff competition with others in your industry to locate the people you need. Labour shortages are likely to affect many industries over the next few years as the supply of workers with the ideal skills continues to shrink.
Download our whitepaper to see how we solve our clients' evolving staffing issues
That means employers like you might be looking at long term job vacancies in the near future. We've got some tips on how to handle this situation.
Offer Assistance with Training
One of the biggest issues affecting Canadian employers and employees right now is a growing skills mismatch. Even as the number of long-term vacancies has risen, the number of people who have stopped looking for work has also grown. Unemployment hit a low, but has slowly crept upwards instead of dropping.
The problem is many of the jobs on offer don't match the skills of the available workers in the talent pool. There are people who are looking for jobs, but they haven't acquired the training yet.
An obvious example of this is in the manufacturing industry. Manufacturing in Canada is growing, but manufacturers are experiencing labour shortages. There just aren't enough qualified employees.
In this situation, one of the best things an employer can do is offer assistance to job candidates who are interested in switching careers, or learning new skills. You could provide on-the-job training, or access to classes. Another option would be guaranteeing their employment for so long after they complete school, or offering to pay for a program given the employee stays on for a certain amount of time after.
Consider Temporary and Contract Employees
Another way to deal with long term job vacancies is to reconsider the roles. If you can't seem to find the right person to fill the role, you could try contract or temporary employment.
Using temp-to-perm hiring can help you evaluate and assess employees before you hire them on permanently.
Rethink Your Hiring Process
Another sticking point may be your hiring process itself. If you're not locating the right candidates, you might not be looking in the right places. Revisit your job description. Does it highlight what you really require so you'll attract the right people to apply?
You may also want to consider the technology you're using. Do you have the right keywords to filter through an applicant tracking system? If not, you might be sorting out the best candidates. If you're still reviewing applications manually, you could be making decisions based on intuition rather than evidence.
At Liberty Staffing, our recruiters are here to help. If you need to make sure your job posting is reaching a wider network, we can post the job on multiple platforms on your behalf, and provide access to our large pool of registered candidates. With the latest recruiting technology, and our expertise, we can help you pick the right keywords, build a better job description, and find the right people.
Rethink the Roles
If you're having trouble finding people to fill a position, it may be time to rethink the job itself. Are the skills too advanced for an entry level position, or the responsibilities too high? You might want to reassign some of the tasks to existing employees, and create simplified roles to assist new workers in developing their skills.
Fill Jobs Faster
Leaving a role vacant hurts your productivity, so don't take the risk. Work with us to find the people you need faster than ever before. Contact Liberty Staffing today!