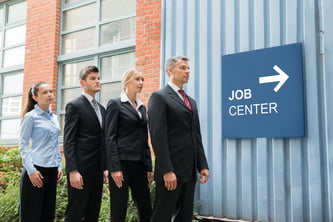 Are you looking for a short term job this holiday season? The good news is plenty of companies are looking for you. Many stores will be staffing their sales floors, stockrooms, and warehouses to meet demand. Since stores need to hire so many people in a short time, they often turn to temp recruitment agencies to get the holiday help they need.
By standing out to these agencies, you can boost your chances of landing a seasonal position. To get noticed, try these tips.
Ask for a Referral
One of the best ways to stand out is to get a job referral. When you're referred to the agency by one of its current employees, your resume may get a closer look. That's because good employees know they need to refer people who are similarly skilled and experienced. If a good employee refers you, the agency may be more interested in you.
So, how can you get a referral? First, find out if anyone in your network is a current or past employee of the recruitment agency. If so, ask if they'd feel comfortable giving you a referral.
Remember, getting a referral doesn't mean you'll definitely get offered a job, but it can help.
Write a Strong Resume
Recruiters see many poorly written resumes, and you don't want yours to be one of them. To stand out, take the time to write an effective resume. Be specific about what you've done and accomplished in your past jobs. For example, instead of just stating you were responsible for training, include the number of people you trained and what you taught them.
When you're done writing your resume, check for errors. Typos or grammatical errors could make recruiters draw unflattering conclusions about you. If writing isn't your strong point, ask a friend or family member to edit your resume before you send it out.
Customize Your Cover Letter
Cover letters can be hard to write, but you can't just copy and paste a generic letter you found online. The goal of a cover letter is to introduce you to employers and help you stand out. If you send a recruiting agency a generic letter, the recruiters won't learn anything about you. You could be passed over for someone who took the time to write a unique letter.
In your cover letter, you can share details that don't belong on your resume. For example, you could explain why you're interested in working with the agency or the type of jobs you're interested in. Your cover letter can also be used to explain any employment gaps, if applicable.
Prepare for Your Interview
If your application materials stand out to temp recruitment agencies, recruiters will call you in for interviews. The goal of these interviews is to find out if you're a good fit for any of the positions they need to fill. At the interview, you may also have to take some employment skills tests. To perform well in your interview, make sure to prepare for it.
Researching the agency is a good first step. You should know what types of job it fills and how the agency works. You should also prepare for common interview questions that you'll probably be asked. Here are some of the common questions to prepare answers for:
Can you tell me about yourself?
What do you know about the company?
What are your greatest strengths?
What are your greatest weaknesses?
Why are you looking for work?
If you struggle to answer common questions, you could look unprepared. Take the time to practice your answers before the interview. If possible, practice interviewing with a friend or family member.
By taking the time to stand out to temp recruitment agencies, you can boost your chances of landing a seasonal job. When you're ready, you can apply online for seasonal work.