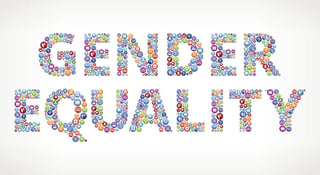 March is Women's History Month, and International Women's Day is perhaps the biggest celebration in the whole month. This year's theme is: "Time Is Now: Rural and Urban Activists Transforming Women's Lives."
On the topic of transformation, you may wonder about gender equality in the workplace. Is your workplace truly equal for both men and women? Liberty Staffing would like to present you with some facts and information regarding gender equality.
Historically Speaking
Women have made enormous strides in the world of work since the 1960s and 1970s. Women now make up 47 percent of Canada's workforce. The wage gap has narrowed over the past few decades, but unfortunately still exists today.
Women are also represented in almost every sector. There are more female doctors and university professors, as well as female scientists and engineers in the STEM (science, technology, engineering, and mathematics) fields. More immigrant women and Indigenous women are also represented in the workforce now as well, and a large proportion of Canadian female seniors are still working.
As a result of growing female representation in the workforce, policies have also been changing. Parental leave, and maternity/paternity leave improvements, are initiatives largely aimed at helping women. Changing policies about leaves for caregiving for the elderly or ill have also improved.
There's Still Work to Do
As much as there's been plenty of positive improvements and transformation in the workplace for women, there is still much left to do.
First and foremost, the wage gap still exists, and that needs to change immediately. The Ontario government is said to be bringing in a "pay transparency" bill, which aims to close the gender wage gap.
Women also typically encounter what's known as the "glass ceiling," which is a barrier to entering the ranks of upper management. Women are underrepresented in senior management and executive positions. Despite representing around 51 percent of the population, women held only a tiny percentage of the top jobs in Canada in 2014. Things don't appear to have improved much. Women are generally underrepresented in the STEM disciplines and as CEOs and executives.
Some jobs, such as construction and factory work, may also underrepresent women. Women may be discouraged from applying or may not even be considered.
Lastly, unfortunately, some employers do still discriminate against women, believing they'll need more time off to raise families or care for elders.
What Can You Do?
While there have been huge strides in making the world of work more equal, there is more to do. What can you do?
One thing employers can do is review their hiring and employee development programs. There may be unconscious biases in your hiring process. When you develop employees, do you consider women for the top jobs? Check for hidden biases. You could be preventing the best from getting to the top.
Think also of the atmosphere in your workplace. Is the environment welcoming, and comfortable, for women? Strive to make the workplace a welcoming place for people from any walk of life.
Finally, be sure you comply with Ontario legislation regarding the Pay Equity Act, Equal Pay for Equal Work Act, and various leaves of absences.
For women in the working world today, you have every right to speak up if you believe injustices are happening in your place of employment. Talk to your supervisor or staffing agency.
Achieving gender equality in the workplace is possible. At Liberty Staffing Services, we treat every employee with equality and respect, no matter their gender, age, ethnicity, etc. We want the best for our employees, and we believe that the workplace should be a welcoming environment for everyone.