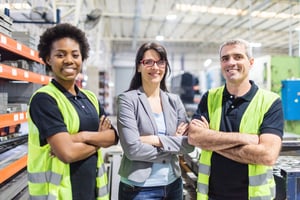 Are you searching for a job? If so, you've picked a good time. The fall and holiday seasons are often the busiest hiring seasons across a number of different industries. Many employers in Canada are looking for workers to help them meet their production goals through this busy period.
One area of employment you might consider is industrial jobs.
What is an industrial job?
Industrial jobs come in many shapes and forms. In most cases, they're related to the manufacturing industry, and they may include positions in factories and warehouses. Brake Press Operators, Machine Operators, Press Operators, Electronics Assemblers, and Food Processors are all considered industrial jobs. Other positions can include General Labourers, Packagers, Welders, Assemblers, and Solderers.
Looking through this short list of some types of industrial jobs, you may wonder if one of them is a good fit for you. Ask yourself the following questions to determine if an industrial job might be the right choice.
1. Do You Enjoy Operating or Working with Machines?
Many of the industrial jobs that are available today are much more hands on than other types of work in other industries, and much of the work involves operating machines. For example, a Brake Press Operator uses a brake press. Other machine operators will use different types of machines, depending on the job and position.
2. Do You Have an Aptitude for Working with Your Hands?
Welders, Solderers, and other industrial labourers generally do hands on work. Welders and Solderers, for example, are working with metal. They may be involved in creating new parts, machines, or products, or they may be assisting in the maintenance of equipment.
Other industrial jobs are also hands on. Food Processors and Electronics Assemblers, for example, will work with their hands to finish products as they move across the line.
3. How Are Your Critical Thinking Skills?
Industrial labourers are often asked to think critically about problems, and they'll need to use their problem solving skills to keep operations running smoothly. A Machine Operator will need to be able to diagnosis machines and make adjustments to keep output at optimal levels.
4. Can You Work Independently?
Industrial jobs often ask workers to work alone on individual assignments for long stretches of time. You may have a partner, or you may be stationed near a few coworkers, but you'll be responsible for the operation of your machine and the completion of your tasks.
Each person is an important part of the operations, so it's important each person feels capable of completing their own tasks.
You may also work with minimal supervision. You'll be given a task and asked to complete it. Unless there's an issue, you may not interact much with your supervisor.
5. Do You Like Meeting Challenges and Goals?
Industrial jobs often come with specific goals attached to them. A Machine Operator, for example, may be given a production goal to meet. If you see reaching goals as a challenge and enjoy testing yourself to meet them, an industrial job might be right for you.
Industrial jobs are often challenging roles, and not everyone is cut out for this kind of work. If you answered "yes" to some of the above questions, contact Liberty Staffing to discuss industrial opportunities available in your area. You might just find your next job.