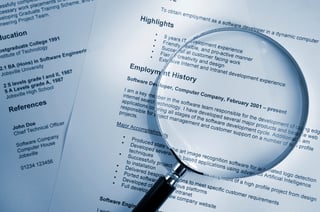 Are you one of many job applicants out there diligently sending off applications for job positions every day, but receiving no responses? Today's job hunt has never been more challenging, and even the most qualified of candidates find that their search lasts at least a year. Searching for a job is no longer about possessing the practical experience and relevant skills an employer is looking for, it's about expertly marketing your personal brand.
Your resume, in both its online and offline formats, is one of the key documents that communicates your personal brand. Even if you've integrated all the necessary writing tips to create an effective resume, if your resume fails to tell an employer what your personal brand is and what it can bring to their business, then you won't be getting any call backs anytime soon. With all that said, here are some critical reasons why potential employers could be ignoring your resume.
Your Social Media Presence Misrepresents You
In this digital age, your social media presence is always indirectly influencing your personal brand. While not every employer bases their impression of you off your public Facebook profile (although you should be aware of how to curate your photo gallery), your LinkedIn and Twitter profiles (or lack thereof) will give them enough cues as to whether you're culturally fit for their position.
You could have every requirement necessary for a position, but if your LinkedIn features an unprofessional selfie, it could mislead your potential employer. You also shouldn't fake a stunningly professional twitter timeline. Ultimately your social media presence should showcase the authentic you—which is also the goal of a strong resume.
You're Inaccessible or Not Visible Enough
Your resume might also be ignored if you aren't actively engaging with your industry and networking with industry professionals in person. Attending relevant conferences, job fairs and perhaps even conducting an informational interview with some target companies can do a lot for your personal brand.
Some applicant resumes are ignored because they don't demonstrate passion for the industry at hand. Remember that ever since the advent of online applications, your resume is one of hundreds, sometimes thousands, that a hiring manager will see.
If you cannot network in person all that often, you're still not out of luck! Social media platforms can be a great place to network (so long as you don't come on too strong) and communicate your drive for your industry. Writing informational tweets and crafting knowledgeable posts on LinkedIn can generate interest, too.
Your Resume Isn't Tailored to Fit the Position
This one's an oldie-but-goodie for applicants, but still relevant. Your resume should always be tailored to fit the individual application. Rewrite your header to reflect your experience and achievements that are relevant to the current position.
Now that your online resume can utilize keywords or industry buzzwords, you can also engineer your resume to specifically target industries that might be searching for candidates like you. If you avoid practices like keyword stuffing, you have many tools to make sure your resume gets seen.
A general resume gets passed over often because it can signal to recruiters that you just want a job, period. You want your resume to read as though you know this position is best suited for you and expertly shows the proof as to why.