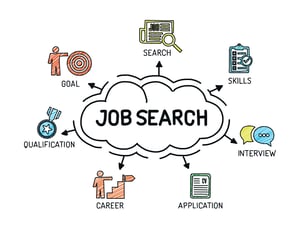 As the days get longer and warmer, you're probably thinking about summer. It will be here before you know it, which means you should get a jump on finding summer work now.
You have just one question. How can a job seeker like you be sure you'll find summer work? You may have a job search on the go right now, and you know it's a long process. Did you spend most of the sunniest season last year looking for employment, and now you're bracing for more of the same?
If you want to make finding a summer job quick and easy, there's a great way to do it.
A Job Seeker Has Options
When it comes to finding a job, you have options.
You can start looking for a job now and begin applying to positions you see advertised on LinkedIn or other job boards. You could research various companies you want to work with and write to them, asking if they're hiring.
These job search routes can be tedious and time consuming. If you want to settle into a summer job before the heat hits, there's an easier way to go about it.
You can team up with Liberty Staffing. Simply apply on our website and we'll work to match you with open roles. You'll be screened and interviewed. With luck, you'll be placed quickly. If not, there will likely be an open role waiting to be filled soon.
Let Expert Recruiters Do the Leg Work
Why is working with a staffing agency the easy way for a job seeker to find summer employment? The answer should be clear.
If you decide to look for work on your own, you can spend a good deal of time researching companies and job postings, then preparing applications. As any job seeker will tell you, you will likely send out many applications before you land an interview.
When you work with a recruiter, they can help you streamline the process. Their clients submit open roles to them, so they don't need to go searching for jobs. They'll pair you with the jobs you're most suited to.
Finally, they can also help you improve your resume and application, so you'll match with the most appropriate employers and positions.
Finding Summer Work Fast
What this process does is fast track your job search. While you have the option of creating a resume and application on your own, a recruiter's expertise can help you polish your documents. Since they use advanced screening techniques, you only match to the jobs you're best suited for.
These are also the jobs you're most likely to get, since you have the required skills, experience, and education.
All Kinds of Positions
You may be looking for seasonal work now, but what if you're hoping to stay on through the fall or find more permanent work? Liberty Staffing can help in these situations too.
We assist clients with temporary to permanent staffing. If the company has a need for permanent staff and they like your work ethic, we can help you make the transition to permanent employee.
That's why job seekers should consider working with us. Our ability to help you land a role extends far beyond summer work and seasonal employment. Your desired career path could start by applying to a staffing agency.
If you're not already registered with an agency, apply to Liberty Staffing today and discover how we can help you find summer employment before summer arrives.