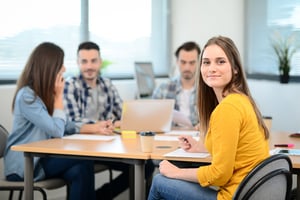 Graduation is a big celebration, and so it should be. You've worked your hardest to earn your degree, and now's the time to really give yourself some credit and acknowledge how far you've come academically and personally. Yet, for many grads these days, it's inevitable that there will be at least one lingering worry at the back of their minds: how to earn a steady income after stepping off the graduation stage.
For many Canadian graduates, the cost of higher education runs into the tens of thousands, with some full time programs priced at $8,000-$22,000 per year. And if you're going to school on student loans, that's a significant amount of debt to deal with after graduation.
Fortunately, there are many options that can help you avoid a post-grad income slump these days. Landing summer jobs is definitely an option, especially if you tap into the gig economy. There are many companies out there looking for candidates with up-to-date skills like you, making temporary work a great idea for recent grads. Want to know how temporary work is particularly beneficial for your first post-grad summer? Keep reading.
Find Work Fast
Often, the job search for new grads can take months, and it's an often-cited tip that looking for a job should be treated like a full time job in and of itself. Despite Canada's unemployment rate being at the lowest it's been in 40 years, the market is competitive.
Temporary work in the gig economy can offer recent grads like you the major advantage of landing jobs fast. Since there are many companies looking to complete specific projects in the summer and fill gaps left by their many permanent employees taking their vacations, you're bound to find work in a short amount of time. Summer temporary work is so in demand that some grads find multiple summer jobs and others land positions that last for the duration of the summer months.
Test Out Your New Skills in Various Fields
Another way that summer jobs will help you avoid a post-grad slump is by giving you the opportunity to test out your hard-earned skillset in various fields. Being a temporary worker lets you gain practical experience in a work situation where there's no long term commitment involved. Unlike internships, which are often unpaid positions, and only offer you limited opportunities to use your skills, being a temporary worker gives you the chance to test out your skills in a variety of environments.
If you were hired as a temporary worker through a staffing agency like Liberty Staffing, you could access positions in several fields of work, including office, warehouse, and industrial. Whether your degree was in business administration or trade work, there are many positions that you could try out. You might even find a position that you want to turn into your career!
Summer Work Can Become Permanent Work
Working temporary summer jobs grants you work-life balance and the opportunity to get your foot in the door in various industries. There's one more trump card to taking on summer work via a temporary staffing agency, however: you may get hired on full time.
Staffing agencies like Liberty Staffing offer temporary-to-permanent positions, which are just what they sound like. It's a temporary position that could very well end with you being hired on as a permanent employee.
Employers often use temporary placements as an extended probationary period to determine if you're the right fit for their work environment and requirements. If you know what kind of work you're best suited to, and you work hard at your placement, you could find yourself with a full time job straight out of college!
If all the above sounds like a promising way to start your post-grad life, apply to Liberty Staffing today!