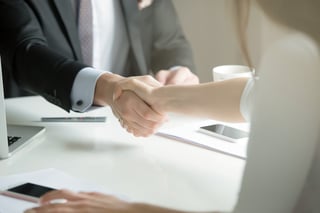 As business ramps up for the busy season ahead, you're probably thinking about hiring more workers to help meet the demand.
You're probably not thinking about what happens when the holiday season ends. You'd do well to pause and consider how your temporary holiday staff can help you transition from holiday rush to business-as-usual. Follow these temporary staffing tips to help in the transition.
Why Hire Temporary Workers
It often makes good sense to hire on a temporary basis during the holiday rush. While you can expect to be busy between now until the end of December, you'll likely face a bit of a slump once January rolls around. This is natural and normal for most businesses in a variety of industries.
Given you're only likely to need additional help for a finite period, hiring temporary workers makes the most sense. These people help out during the holiday rush. When things settle down, their contracts end. You get the help you need during the rush without the commitment of permanent employees who will be underutilized afterwards.
Turning Over a New Leaf
Many employers get caught off-guard in January, however, when some of their employees quit. While employee turnover happens throughout the year, January tends to see more turnover than usual. Many people feel the start of the new year is a good time to wipe their slates clean and start new jobs.
Now you have vacancies to fill! You've just let all of your temporary workers go. The departure of permanent employees thus triggers the start of the hiring process all over again. You were probably looking forward to a break after the frenzy of peak hiring season followed by the holiday rush.
Worse, you've let go many workers you had invested resources in. You had to train your seasonal hires much the same way you would any other employee. These temporary workers now have experience too. Some of them were likely a good fit for the roles they were in.
Keeping Temporary Workers
This situation is common enough, which is why these temporary staffing tips focus on it. Instead of hiring your seasonal holiday workers on a strictly temporary basis, try hiring them on a temporary-to-permanent basis instead.
Temporary-to-permanent allows you to hire workers with the understanding the role is temporary. If a permanent position opens up, you have the option of hiring on one of these temporary workers.
This certainly helps when you find yourself in the situation where some of your permanent employees have departed early in the new year.
The Benefits of Temp-to-Perm
The most helpful temporary staffing tips emphasize the flexibility of this type of hire. You, as the employer, want the most out of your temporary hires. You want to hire people when you know you're going to be busy, but you don't necessarily want to keep people on if they're going to be underemployed soon after.
Hiring on a temporary basis is the usual solution. Hiring on a temporary-to-permanent basis gives you the utmost flexibility. If a permanent role happens to open up, you have someone right there, ready to step in.
This saves you both time and money. First, you don't need to start the hiring process all over again. You've also already trained these workers, allowing them to get up to speed quickly without you needing to invest more resources in them.
Try Before You Buy
Temp-to-perm hiring also allows you to try employees on for size before putting them in permanent roles. If a permanent role opens up, you can select the person best suited to stay on with your company. Since you already know their work ethic and values, you can rest easy knowing you're making a great choice.
Working with recruiters can help you ease the process of hiring people on a temporary or temp-to-perm basis.