If you're looking for staff members for your open positions, or if you're sea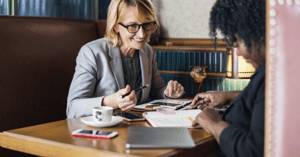 rching for a job, you've probably run across the term "recruitment agency" more than once. Like other employers and job seekers, you probably have many questions. Just what is a recruitment agency? Is it the same thing as a staffing agency? What do they do, and how can working with one benefit you?
These answers might surprise you.
What is a Recruitment Agency?
A recruitment agency is just what it sounds like: a team of recruitment specialists that help businesses find the talent they need to keep operations running smoothly.
Recruitment agencies may go by other names, such as a talent agency, or staffing agency. There are some differences among the terms, but in general, these organizations work to connect job seekers and employers.
A recruitment agency helps employers find the people they need quickly. Depending on the agency, they may specialize in one specific industry, or work for employers across several industries. Agencies usually hire for all sorts of jobs, including temporary, seasonal, part time, and full time permanent employment.
Liberty Staffing is a staffing agency with 10 branch locations across Ontario. We specialize in general labour, warehouse, and office positions in temporary, temporary to permanent, and permanent opportunities.
Benefits for Employers
It's easy to see why an employer would want to work with a recruitment agency. The agency employs recruiters who specialize in assessing, interviewing, and hiring job candidates. For employers who don't have the time or expertise to hire for themselves, the agency's recruiters become a specialized hiring team.
Generally, employers find the people they need faster when they work with a staffing agency. Liberty Staffing can help you find people with specialized skills, and can provide you with multiple staff members quickly.
How Working with a Recruitment Agency Helps Job Seekers
Now that you know what a recruitment agency is, you're probably wondering how it could help you as a job seeker. You understand why an employer would want to work with an agency, but are there any advantages for a job seeker like you?
As it turns out, there are plenty of reasons a job seeker should consider working with a recruitment agency. One of the biggest benefits is that teaming up with the agency can connect you to a wider range of employers.
Some of your local employers may only hire through an agency, while others work with the agency to hire for specialized roles. You may even learn about businesses in your local area that you didn't know about.
The Fastest Route to Experience
Another great benefit of working with a recruitment agency, like Liberty Staffing, is the experience you could acquire. You might be able to select from several open positions, each offering you different experiences. If you're hoping to get a foot in the door in your industry, or start building a new career, working with a recruitment agency can help.
A staffing agency can match you with more roles and employers that will help build your resume. Better yet, you'll be able to locate these jobs quickly. Temporary assignments could help you build skills, and improve your resume.
The other advantage of working with a recruitment agency is that it allows you to expand your network. As you apply for more jobs, and meet with more hiring managers, you increase your professional connections in the industry. You may be able to call on these connections the next time you're looking for a job.
Get Started Today
If you've been thinking about a new job, or you've been looking for one for some time now, it's time to get in touch with a recruitment agency like Liberty Staffing. Now that you know the answer to "what is a recruitment agency?", you're in a better position to seek out the best of the best.
There's no reason to wait. Reach out to Liberty Staffing today if you're looking for staffing solutions for your business, or if you're looking for employment. We connect great people with great jobs!