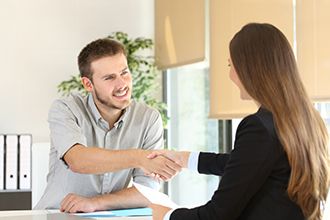 No matter whether you're applying as a candidate for temporary, permanent, or temporary-to-permanent work, working with a staffing firm should help you rise in your career.
That's why customer service matters when you're working with recruiters at a staffing firm. You need to be able to trust your decision to be placed with an employer. If you're applying to a firm with the hopes of landing meaningful work that helps you decide on your future career, then it's even more important to seek out excellent customer service from the firm you work with.
Not sure if customer service determines a fruitful partnership with a staffing firm? Check out below for some significant reasons why this trait defines great staffing firms.
You're Not Viewed as a Number
If a staffing firm demonstrates genuine customer service, then you can rest easy knowing you're not perceived as just another number. The best firms are candidate-oriented, taking serious consideration for what you need out of a placement.
A great staffing firm will be well aware of the industries they work with and which candidates will serve those industries best. They focus on the quality of placements over quantity.
In other words, a firm's customer service is a good marker of whether they value profit or people more. A savvy recruiter knows that today's gig economy is all about the candidates.
Communicating Your Goals is Easy
When you work with a firm that has proficient customer service, you'll notice that the recruiters aren't just great communicators, they're great listeners. In order to place you in the right industry with the right employer, recruiters need to determine what your goals are. Another way to put it is that, without a thorough conversation with a candidate like you, they won't be able to recruit for cultural fit.
A high-performing recruiter isn't afraid to take the time to listen to what candidates want and need. The recruiter's goal is not just to make placements, but to build honest work relationships.
Your Best Interests Are at Heart
This last reason might be the most obvious, but it's also the most important. A great staffing agency that focuses on customer service will enable you to find employment that helps you gain industry-specific experience and possibly a lifetime career. Great customer service makes the whole process of finding an ideal placement simpler.
Working with a staffing agency can be rewarding and worthwhile, if you choose a firm that focuses on customer service. Nowadays, more and more candidates like you are applying to firms because they afford them flexible work, a way to test out different fields of work, and a way to target the careers they want.
Liberty Staffing makes customer service a priority when placing candidates. Contact us today to start the application process.