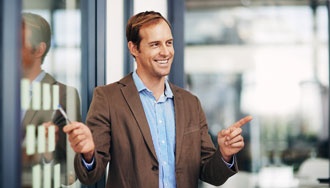 With the amount of competition for great jobs, making the effort to stand out to an employer is very important. While it may feel overwhelming, there are ten ways you can put yourself above the competition and draw the attention of recruiters.
1. Have a Strong Online Presence
One of the very first things a prospective employer will do before making a hiring decision is look you up online. Your online presence can say a lot about your personality and general suitability for the work environment. Being conscious of the way you present yourself online can be a good way to make a great first impression.
2. Target Your Cover Letters to the Job
Employers can tell when the cover letter you've submitted is the same one you submit everywhere. Without clear signs that you've tailored your cover letter to the specific job, the employer won't believe you're invested in the specific job you've applied for. Write a cover letter that's unique to each and every job you apply for.
3. Show Personality in Your Cover Letter
While your cover letter should always be professional, it's important to remember that prospective employers go through hundreds of letters for a single job posting. A letter that demonstrates your personality can help you stand out from the rest.
4. Quantify Your Achievements with Facts
You can go on and on in in your resume about all the great things you accomplished without making a real impact. To improve your resume, include facts, figures, and numbers to back up your assertions demonstrate you've achieved quantifiable results that could be a benefit in the role for which you've applied.
5. Make a Great First Impression
Employers are only human—the first impression they have of you is going to stick, regardless of how the actual interview proceeds. Making a good first impression is one of the best ways you can stand out, and that means looking professional and excited to meet the individual you're interviewingwith.
6. Do Your Research Beforehand
Employers are looking for candidates who are invested in the role. If they can tell you don't know much the about the position, they're going to have a hard time believing you really want the job. You should always preface your application and interview with extensive research into the company, what they do, and what they're looking for.
7. Be Positive, Interested, and Engaged
The attitude you display when meeting someone can go along way. Interviewers have reported that they are most impressed by individuals who demonstrate three things during an interview: positivity, interest, and engagement. Individuals who display these characteristics stand out to an employer as candidates who would fit in well in a team environment.
8. Ask Interesting Questions
At the end of the interview, it's customary for the interviewers to ask if you have any questions. This is not a formality—interviewers are looking to see if you've prepared for the meeting and are willing to engage on a meaningful level with the company. Avoid surface questions that require a yes or no answer. Instead, ask complex questions that will impress the employer.
9. Offer Creative Suggestions
Employers love to see individuals who are confident in their abilities. In your research on the company and the role, make a note of any areas for improvement you've identified. Making suggestions in the interview won't just help you stand out to an employer—it also showcases what you could bring to the role.
10. Always Follow Up
Following up on your application or your interview is a relatively simple thing you can do that will leave a big impression. In fact, failing to follow up is one of the worst job searching mistakes you could make. Following up tells the employer you're not only invested in the role, but you're also a courteous individual who is good at communication.