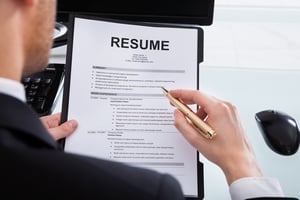 Usually, a resume is the first impression you make on a potential employer. Therefore, it's imperative that you present the best version of your resume to any job opportunity that you apply to.
The art of resume writing can take a certain finesse, and many candidates make common resume writing mistakes. Don't fall into these traps.
Liberty Staffing Services would like to provide you with some tips and tricks to watch out for when you're writing or updating your resume. After all, some of our client companies ask for resumes from our candidates. Here are five ways that you can improve your resume.
1. List Work History Chronologically
It's important to always list your work experience in chronological order. The first thing that a employer will look for is your most recent work experience. Your current/most recent position should be at the top of your list. If not listed chronologically, most employers will not take the time to read and figure out which company you worked for most recently.
2. Proofread
There's nothing more off-putting than reading a resume with multiple spelling and grammar mistakes. We're all human, and everyone makes mistakes. Before you send out your resume, ask a colleague, friend, or family member to read over your resume for any mistakes. You can also visit a public library near you, or search online for resume writing services in your area, for assistance. It's easier for someone else to proofread your resume with fresh eyes, to catch any mistakes that you may have missed.
3. Choose an Easy-to-Read Font
When you're typing up your resume, make sure that your font is legible. Employers will not bother with a resume that's indecipherable. To ensure that your resume doesn't get tossed aside, choose an easy-to-read font. Times New Roman, Arial, and Verdana are the top three fonts that most candidates use when creating a resume.
4. Keep It Under Two Pages
A standard resume will be a maximum of two pages in length. Most employers will not take the time to read your resume if it exceeds two pages. If you're having trouble cutting down on the pages, make sure that you're stating only what's relevant and necessary for the job that you're applying for.
5. State the Facts
Always state the facts when applying to any job opportunity. Do not stretch the truth. Stating untruths about your past work history, skills and trades on your resume is a big no-no. After all, you want to establish an honest and truthful relationship with your employer. And if you're hired for the position under the wrong pretense, things will escalate and end quickly, wasting both your time and the employer's.
Contact Liberty Staffing today for more resume writing tips. We would be happy to help you!