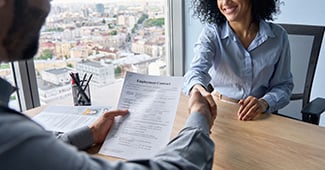 If you're interviewing for a new job, now is the perfect time to decide how you will negotiate your pay. Many employees make the costly mistake of not negotiating their salary. Developing a solid strategy now increases your chances of securing the compensation package you deserve.
At Liberty Staffing, we help people find temporary and permanent jobs they love. If you're looking for a new position that will pay you what you're worth, let us know. We can help!
To help you get the best offer possible, here are the top ten things to remember when you are ready to negotiate pay.
1. Know Your Value in the Industry and Job Market
Compensation packages for similar roles vary considerably from one industry to the next. Therefore, before walking into any salary negotiation, it's vital to understand what your skills and experience are worth in your potential employer's industry. Going in without any sense of what your industry pays for your skillset makes it hard to come up with reasonable numbers.
Also, look at labour market reports to see whether the job market favors employers or candidates. For example, periods of rapid growth or worker shortages in your industry give you more bargaining power.
2. Identify the Top Things That Make You Valuable
Before entering salary negotiations, identify the top 2-3 things that make you the best candidate for this position. These will support any counteroffers you make. Next, choose the qualifications or experience that justifies your desired rate. Highlighting irrelevant expertise will make you seem less valuable, so stay focused.
3. Determine What You Want Before the Offer is Made
Developing a goal salary based on your value in the current market is essential. Be sure to add any additional expenses the position will bring into your equation. (For example, if a commute or relocation is required.)
Remember to consider regional differences if you will be working remotely or relocating. If you currently live in a region with a lower cost of living than your employer, research typical pay in their area so that you don't say "yes" to an offer that won't support your lifestyle.
4. Insist the Employer Make the First Offer
Even if the employer asks what your desired salary is, your best negotiating strategy is to have them make the initial offer. This strategy works to your advantage because it keeps you from significantly over or underestimating the salary for the role. In addition, because you've done the steps described above, you can compare their offer to your standards and determine if you want to say "yes," "no," or "no, but" and counteroffer.
5. Be Confident and Counter
You've already settled on the salary you deserve, making it easier to evaluate offers and counter if they don't meet your standard. Let the employer know you appreciate their offer, but because of your experience and skills, you are hoping for a salary closer to X amount. Be confident, don't take lowball offers personally, and keep your defenses in check.
6. Ask About Benefits, Bonuses, and Other Perks
Sometimes an employer won't be able to meet you where you want to be, but they can offer extra perks to offset the lower pay rate. Typically, salary is only a part of your compensation. So when evaluating an offer, include benefits, bonuses, and other perks in your calculation. If the benefit isn't something you will use, it doesn't add value to your compensation.
7. Negotiate Your Salary in Writing
Negotiating in writing offers you and the employer an added level of protection. Use active verbs and be direct in your communication. Don't get overly wordy or drown them with flattery (after all, they already want you). Negotiating your salary is all about agreeing on your value.
Even if the initial conversations happen in person or by phone, insist on confirming the details in writing before officially accepting the position. If clarifications need to be made, also do that in writing so everyone is on the same page.
8. Respond Quickly to Offers
Negotiating your salary is a great time to show you are a great communicator. Promptly sending a concise, professional response will back up their decision to offer you the position. First, let the employer know when to expect a response. Then, respond as promised and thank the employer for the opportunity to assess their offer.
9. Don't Bluff About Offers You Don't Have
The quickest way to destroy your credibility is to push for more compensation by saying you have a better offer when you don't. Salary negotiators are savvy; there's a good chance they'll call your bluff. You must maintain your integrity to avoid losing the offer and eliminate yourself from consideration for future positions.
10. Permit Yourself to Decline Any Offer That Doesn't Feel Good
The best way to lower your stress while negotiating your pay is to permit yourself to walk away from any offer that doesn't meet your standards. Remember, your goal is to land a job that pays you what you're worth, not to accept a role where you'll feel undervalued and underpaid.
Be careful not to say "yes" when you mean "I don't know." Also, only withdraw your application from other openings once you officially accept a role. Keeping your options open makes it easier to say "no" to an insufficient compensation package.
How to Find a Position with a Competitive Compensation Package
Sometimes when looking for a job, it can take a lot of work to find companies serious about hiring quality employees at competitive rates.
Liberty Staffing is ready to help! Reach out to us and we'll help you find the position of your dreams.