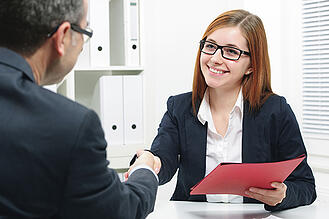 When understaffed on a short-term basis, hiring temporary staff is a great option. Temp employees can provide you with the extra warm bodies you need when you have a rush, a special project, or an expected leave coming up. They allow you to avoid the negative effects that being short-staffed can have on your company, such as overtime pay, decreased customer service, or turning away paying customers.
When hiring temporary staff, you'll have better luck at finding quality workers and getting the help you need by utilizing the services of a staffing agency. However, even when you go this route, missteps can occur that can hinder your hiring process. To avoid them from happening, here are the three keys to hiring the best temporary staff for your company.
1. Understand What You're Looking For
Hiring temporary staff is going to be difficult if you don't fully understand exactly what you're looking for. So before you undertake the recruiting process, ask yourself a few helpful questions that can best determine the ideal candidates you're looking to hire. What skill set are you looking for? Which skills are essential and which ones would just be good assets? What kind of experience or education are you looking for, if any, and how well did the candidates perform similar tasks at their previous workplaces?
Understanding your company culture is also just as important as your hiring needs. You want to find temp employees who will work well within your environment and who can adapt well to your company culture. Will the candidates get along with their team mates? Who will they be interacting with and who will they be taking directions from? You don't want your temp workers to disrupt the dynamics that are already in place within your company. Rather, you want them to be able to adapt quickly.
Your staffing agency won't know which characteristics you're looking for if you're not giving them clear instructions. Hiring the best temporary staff means knowing exactly who you're looking for.
2. Anticipate Your Needs in Advance
Though some staffing agencies can work with short deadlines and find you appropriate workers on a short turnaround, this situation isn't ideal. You know your business better than anyone does. You know when your staff has been requesting time off, you know what your busy seasons are, and you know when extra work has to be done.
Sure, sometimes you can't avoid being understaffed unexpectedly, but for the majority of your temporary staffing needs, you should be able to anticipate your needs well in advance. By giving your temp staffing agency plenty of time, you are allowing them the extra time they need to vet and assess the candidates thoroughly so you only get the best workers that fit your needs.
3. Communicate with Your Staffing Firm
Your staffing firm is going to take care of all the legwork when hiring temporary staff but they will still be taking directions from you. That's why communication is a key to a successful business relationship with your temp agency. You want your agency to truly understand your company's hiring needs as well as your company culture. This is how they'll be able to find you the right temps for the job at hand. You should both be on the same page at all times.
Hiring temporary staff can be difficult to do properly. However, when you keep these three keys in mind, you'll have a much better chance at recruiting and hiring the best temps.