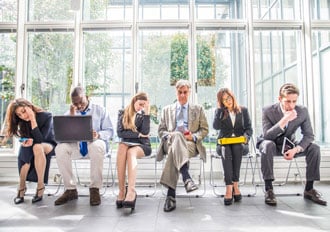 Finding great career opportunities can be challenging. A quick search on a job board might pull up way too many irrelevant postings and way too few good ones. While there may be a breadth of companies recruiting talent, many people struggle with getting their foot in the door. It can be helpful to have a recruiter on your side, pointing you in the right direction in terms of where to look for good roles, and to give you a good referral to one of their clients.
But with so many staffing agencies out there, how do you choose the best one? While there is the option of signing up for as many as you can, this isn't always the best use of your time. Instead, making the strategic decision of choosing a staffing agency that fits your exact requirements will be much more valuable.
Below we've compiled a list of key considerations all job seekers should keep in mind when choosing a staffing agency.
1. What Does the Firm Specialize In?
When choosing a staffing agency, you want to consider each particular agency's niche. A niche staffing agency specializes in a specific industry or type of role. If you know what industry you hope to get into or what type of job you're looking for, they can definitely help to narrow down the pool for you. These recruiters know that particular industry well; they are experts in those specific markets, meaning you don't have to translate what it is you're looking for to them.
Niche staffing firms also have access to hidden job markets. For example, a company may be hiring for a senior role that they may not wish to advertise for on a public job board, like Indeed. Instead, they'll hire a niche staffing agency to recruit on their behalf.
Another consideration is that niche staffing firms tend to have less competition, as fewer candidates can, by necessity, use them. This helps you, as there will be fewer other people you're up against.
2. What Else Do They Offer?
Some staffing agencies only do the bare minimum: get you in for an interview. While that's all some people want, many others want more support. When choosing a staffing agency, it's important to consider what it is you're looking for. Do you want help preparing for the interview? Do you want someone to look over your resume? Do you want tips on how to dress, speak or act professionally, or career advice?
It's important to explore the full breadth of what a staffing agency offers before signing up with them.
3. What Are Others Saying about This Firm?
Reviews are arguably more important than they've ever been before. In fact, 88% of consumers trust online reviews as much as personal recommendations. With the prevalence of online review sites comes the freedom to give feedback on not just products and services, but on companies you've worked for as well. Anonymity allows people to be as honest and vocal about their experiences as they want. And this should play an important part in your decision in choosing a staffing agency.
While you cannot make a decision based on the reviews of every single person–after all, some positive or even negative experiences are just one-offs–it's important to get a general feel for what sort of company the staffing agency is. You want to look for reviews that demonstrate how helpful and genuinely caring the recruiters are. If the staffing agency doesn't care, they won't place you in the right spot.
Liberty Staffing can help fulfill all of your job searching needs. Contact us today.