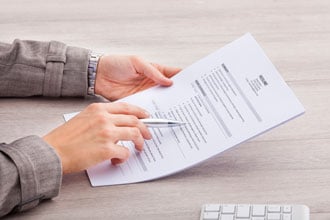 For many of us, there will (or has) come a time in our careers where we will need to take an extended period of time away from work. Whether it's for a parental leave, to go to school, or for a lengthy vacation, the time away can be very important and valuable depending on your life situation. For some, the time off work due to difficulty finding a job can mean that the return to the workforce is a blessed relief.
However, the time away can also mean that it's sometimes difficult to get back into the groove of working (or even going for interviews and re-entering the workforce in general).Many who return feel like they're entering the workforce for the first time. While it's easy to feel outdated, out of sync, or overwhelmed, there are some key things you can do to help you readjust whenever you are ready to make that return.
Here are three some tips to make your return to the workforce easier.
1. Always Keep Your Resume Up-to-Date
Depending on the reason that you're going to be away from the workforce, you may or may not already know when you plan on returning. Even if you don't, it's a great practice to consistently and regularly update your resume.
Some people mistakenly believe that they are not learning new skills when they are not working. However, there are plenty of new skills you can be adding to your resume even when you are away from the workforce. Because so many employers are looking for well-rounded employees nowadays, your previously irrelevant life experiences (like travelling) can now be considered really valuable; they may demonstrate the out-of-the-box thinking and perspective you developed while living abroad.
Having an updated resume will help your return to the workforce by facilitating your job search and encouraging you to think of all your unusual life experiences as highly valuable.
If you want to minimize the time you were off work on your resume, you can also reorganize your experience by function rather than by chronology.
2. Be Bold in Getting the Help You Need
Many people feel irrelevant after taking a long time away from work. It can be hard to readjust, so it's important that you ask for the help you need. This could include seeking out a staffing agency for help to find employment. You can get career advice and interview preparation help, and learn about the opportunities that are out there.
It could also mean scheduling time with your boss before your return to discuss organizational changes,new processes, or anything else that might make you nervous about returning.
The most important thing is to be proactive and seek help before starting.
3. Be Enthusiastic about Networking
There are many benefits to networking, especially for those who are about to return to the workforce. Whether you're looking for work or already know what position you'll be starting in, it's extremely valuable to attend networking events or even tap into your own social or personal networks to reap the benefits.
Networking can help you find opportunities, learn about new career paths, and reorient yourself in the professional world. It can be easy to forget how to be professional or how to talk industry lingo, or even how to dress appropriately when you've been off for a while. Networking helps your reacquaint yourself with all of these things. It helps you get back into the mindset of your work and industry, which is so important for those who have been out of it for an extended period of time.
Contact Liberty Staffing today for help returning to the workforce.